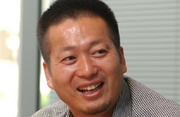 Yoshiki Okamoto (岡本 吉起 Okamoto Yoshiki) (born June 10, 1961, in Ehime Prefecture, Japan), is a video game designer and producer.
Okamoto began his career in the early 1980s at Konami, where he designed the arcade shooters Time Pilot and Gyruss. Despite their success, clashes with management caused him to be fired.
In 1984 he joined Capcom, where he would be involved with a vast number of high-profile titles in almost two decades, including Forgotten Worlds, Mega Twins, Street Fighter III, Resident Evil, and Power Stone.
In 2003 he resigned from Capcom to start his own company, Game Republic, which closed its doors in 2011. Afterwards he started Deluxe Games, specialized in mobile game development.
External links
Edit