Viewtiful Joe 2
is a action beat 'em up game and the second main installment in the
Viewtiful Joe
series. It was developed by
Clover Studio
, headed by
Atsushi Inaba
and published by
Capcom
. It was released on November 23, 2004 for Nintendo GameCube and Sony PlayStation 2.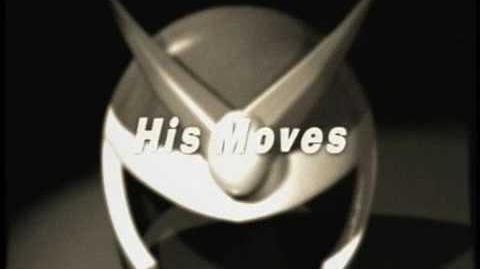 Gameplay
Edit
Viewtiful Joe 2 is a 3D side-scrolling fighting adventure in which the player takes control of Joe in a fictitious world called "Movieworld". Within Movieworld, Joe has "VFX Powers" such as Slow (similar to bullet-time), Mach Speed, and Zoom at his disposal to defeat the enemy. He is joined by girlfriend Silvia, who has also acquired VFX powers. However, Silvia has "Replay", which allows her to repeat an event three times in succession, instead of Joe's Mach Speed. During the game, the player can switch between Joe and Silvia at any time, and holding the "switch" button enables them to use a special attack. In a preview in the first Viewtiful Joe game, Silvia and Joe were shown onscreen fighting at the same time, hinting at co-op play. This idea was apparently dropped later, however.
Characters
Edit
Big John - a large Tyrannosaurus Rex, clad in soldier helmet, vest, and with a walkie-talkie, who continuously stalks Joe throughout the game.
Frost Tiger - the brother of Fire Leo, who wishes to test Joe's heroism.
Cameo Leon - a chameleon, created by Dr. Cranken who prides himself in turning invisible.
Flinty Stone - a large, walking stone, who is a narcoleptic.
Dr. Cranken - Gedow's second-in-command, Cranken is a purple squid-like mad scientist who creates much of Gedow's weaponry and minions.
Picking up from the end of the first game, an alien fleet dubbed "Gedow" has begun an invasion on Movieworld in an attempt to gain the Rainbow Oscars, 7 statuettes that claim to hold "the power of happy endings". When Viewtiful Joe and his new fighting partner Sexy Silvia arrive at the battlefield, they're first forced to watch as Captain Blue himself is turned into one of the Oscars, then suffer as the Gedow throw them off into an unfamiliar part of Movieland out of spite. With the fate of Movieworld in the balance, Joe and Silvia quickly spring into action.
Development
Edit
Viewtiful Joe 2 was developed by "Team Viewtiful", a part of Capcom's subsidiary Clover Studio. The game was produced by Atsushi Inaba and directed by Masaaki Yamada. Hideki Kamiya, the director of the original Viewtiful Joe, contributed to the storyline scenario of the sequel. At the time, Kamiya was signed on as director of Ōkami, but he wanted to write the story of Viewtiful Joe 2 to ensure continuity. Kumiko Suekane once again supervised the character designs, and Masami Ueda and Sayaka Morita co-composed the game's soundtrack. Suleputer released the soundtrack on a double album titled Viewtiful Joe + Viewtiful Joe 2 Original Soundtrack in Japan on December 22, 2004, which includes the musical scores from both games.
Development on Viewtiful Joe 2 began in the August 2003, shortly after the release of the first Viewtiful Joe on the GameCube. The game was officially announced by Capcom on April 21, 2004. Despite Inaba's statement that he does not like to create sequels, he said that he did want to create another Viewtiful Joe game to include several elements that they could not fit into the original game. Inaba also noted that the team took into account the difficulty of the first game and attempted to make Viewtiful Joe 2 accessible to both casual and hardcore gamers. The GameCube and PS2 versions were developed simultaneously and feature the same content. In early previews of the game, Silvia and Joe were shown onscreen fighting at the same time, hinting at cooperative gameplay. This feature was later dropped. When the Replay VFX Power was announced, Inaba was asked if any other VFX Powers would be included in the final game. He answered, "In terms of adding more -- there simply aren't enough buttons on the controller".
During the game's release in North America, Capcom and IGN held the "Be More Viewtiful! Sweepstakes", a contest in which entrants could win merchandise including either version of the game, a t-shirt with an "HMD" design, a skateboard, and a Viewtiful Joe 2 strategy guide by BradyGames. A desktop LCD clock was also released by Capcom during the game's North American debut. A demo of Viewtiful Joe 2 featured on North American PS2 preview discs made news when it was reported that playing the demo would cause a bug to completely erase all data on any inserted memory cards. Sony Computer Entertainment of America issued an apology and gave those affected a choice between several lesser-rated, previously released titles.
Merchandise
Edit
External Links
Edit