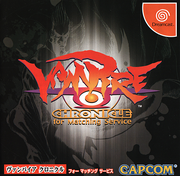 In 2000 Capcom released Vampire Savior 2 & Vampire Hunter 2 for the Sega Dreamcast as a mail-order game via Dreamcast Direct. This version, titled Vampire Chronicle for Matching Service, allows players to select between four fighting styles based on each Darkstalkers game (Vampire, Vampire Hunter, Vampire Savior, Vampire Savior 2, and Vampire Hunter 2). This version also features an online versus mode. In 2004, the game was ported to the PlayStation Portable. This version was released in North America and Europe in 2005 under the title of
Darkstalkers Chronicle: The Chaos Tower. The PSP version includes all the features from the Dreamcast original, but the online mode is replaced with an exclusive single-player "Chaos Tower" mode and contain small additional features.
Community content is available under
CC-BY-SA
unless otherwise noted.