The Punisher (パニッシャー) is a 1993 arcade game developed and released by Capcom. It stars Marvel Comics' anti-hero vigilante the Punisher and co-stars S.H.I.E.L.D. agent Nick Fury as the second player's character. It was ported to the Sega Genesis.
Story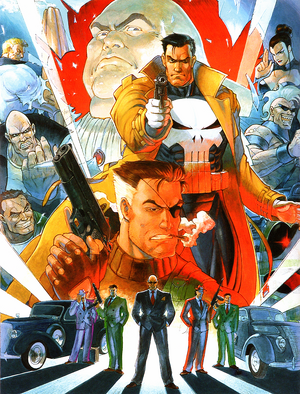 The Punisher is a beat 'em up where Punisher and Fury embark on a quest to thwart the New York crime lord Kingpin, engaging on various foes and stage bosses mostly in hand-to-hand combat.
Several established Marvel Universe villains appear throughout the game, such as the Mafia captain Bruno Costa, Bonebreaker, Bushwhacker, Jigsaw, and the Kingpin himself as the final boss.
Credits
Arcade Version ["The Punisher Team" All Staff]
Plan and Visual Design: Akiman
Game Design: Maeda, Jun Keiba, Buchi, Ohn
Program Design: K.Nakai, T.Ueno, Y.Kawabata, Mitsu, Y. "ZZR" Mikami
Object Design: Eripyon, Matsunaga, Mayo Seriya, Daniel, Vlad.T, Inukichi, Minobeyan, Yokozo Yokota
Scroll Design: Koizumi, Iwai, Go, T.Tathivana, Mikiman, Marilyn Higuchi, Harusan
Music Compose: "Pi-Bomb" Shimomura, Isao Abe
Sound Design: Toshio Kajino, Syun Nishigaki, Nobu.Oouchi
Direct: Poo
System Advise: Jaboon
Illustration Design: SENSEI
Special Thanks: Tanuki, Ikebomb, Yuko, Koguma, Alex, Scott, and All Capcom Staff

Q-Sound System
Q-Sound chips have been developed by Archer and incorporate Archer's proprietary Q-Sound sound enhancement technology.
© 1993 MARVEL ENTERTAINMENT GROUP, INC.
© CAPCOM Co., Ltd. 1993
Presented by: Capcom
Gallery
Videos
Community content is available under
CC-BY-SA
unless otherwise noted.