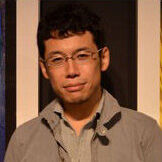 Tatsuya Yoshikawa (吉川達哉, Yoshikawa Tatsuya) is a character designer, illustrator and game creator. He entered the company in 1992 and became well known for his work in the Breath of Fire series.
Tatsuya's artistic influences are Akiman and Masamune Shirow. He left the company and became a freelancer in 2011.
Works
Capcom
Mega Man X8 - Visual Director, Character Designer, Promotional Illustrations.
Other Works
Blade Fantasia - Promotional Illustration.
Mickey Mouse's Mysterious Mirror - Character Designer.
Gallery
External link