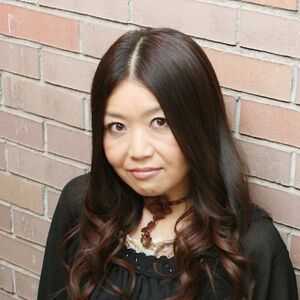 Tamayo Kawamoto (河本 圭代) is a former Capcom music composer best known for composing the music for Ghouls 'n Ghosts (Daimakaimura in Japan) (succeeding Ayako Mori) as well as for shooters such as Legendary Wings and Forgotten Worlds. She worked for the company from 1984 to 1990, during which she went by the aliases Tamayan and Tamatama. She was also a member of Alph Lyla, Capcom's in-house band.
Kawamoto is one of the first composers Capcom ever employed. She usually worked with Ayako Mori.
In 1990, Kawamoto left the company (along with Hiroshige Tonomura) and joined Taito, also becoming a member of its in-house band, Zuntata. She would continue composing music for titles such as Night Striker, RayForce, Galactic Attack, RayStorm, and RayCrisis.
She has also composed music for the anime Night Wizard.
Production History
SonSon (Arcade Version) (1984) [NOTE: No in-game staff roll]
Pirate Ship Higemaru (1984) [NOTE: No in-game staff roll]
Exed Exes (Arcade Version) (1985) [NOTE: No in-game staff roll]
Commando (Arcade Version) (1985) [NOTE: No in-game staff roll]
Section Z (Arcade Version) (1985) [NOTE: No in-game staff roll]
SonSon (NES Version) (1986) [NOTE: No in-game staff roll]
The Speed Rumbler (1986) (as Tamayan) [NOTE: No in-game staff roll; listed in default ranking table as Tamayo]
Legendary Wings (Arcade Version) (1986) [NOTE: No in-game staff roll]
Avengers (1987) -- Sound and Music (as Golden Tamayo)
Section Z (NES Version) (1987) -- Music (as Kuwachan)
Black Tiger (Arcade Version) (1987) -- Sound & Music (as Tamasan)
Tiger Road (Arcade Version) (1987) -- A Sound Effect (as Hero Yoe) [NOTE: Composed 7 non-specified tracks]
1943 Kai (Arcade Version) (1988) [NOTE: Uncredited]
Forgotten Worlds (Arcade Version) (1988) -- Sound (as Tamasan)
Last Duel (Arcade Version) (1988) -- Music and Sound (as Golden Tamayo)
Legendary Wings (NES Version) (1988) -- Sound Programmer (as Tmayochan)
Ghouls 'n Ghosts (Arcade Version) (1988) [NOTE: No in-game staff roll]

Daimakaimura -G.S.M. Capcom 1-

(CD) (1989) (as Tamatama)

Strider Hiryu -G.S.M. Capcom 2-

(CD) (1989) (as Tamatama)
Marusa no Onna (1989)
Buster Bros. (1989) -- Music Compose (as Tamayo .)
Maximo: Ghosts to Glory (2001) -- Music (FMV Production)
Song Credits
Exed Exes (Arcade Version)
Credit -- Composition & Arrangement
Start Demo -- Composition & Arrangement
Main BGM -- Composition & Arrangement
Hi-Point Area BGM -- Composition & Arrangement
BGM -- Composition & Arrangement
Player Out -- Composition & Arrangement
Boss -- Composition & Arrangement
Boss Clear -- Composition & Arrangement
Exed Exes (16th Screen Boss) Clear -- Composition & Arrangement
Game Over -- Composition & Arrangement
Ranking Top -- Composition & Arrangement
Display Top -- Composition & Arrangement
Ranking Under 2nd -- Composition & Arrangement
Display Under 2nd -- Composition & Arrangement
1000 Perfect Score Achievement BGM -- Composition & Arrangement
1000 Perfect Score Name Regist -- Composition & Arrangement
Commando (Arcade Version)
Credit -- Composition & Arrangement
Start Demo -- Composition & Arrangement
BGM 1 -- Composition & Arrangement
Player Out -- Composition & Arrangement
Restart -- Composition & Arrangement
Fortress -- Composition & Arrangement
Stage Clear Demo -- Composition & Arrangement
BGM 2 -- Composition & Arrangement
All Clear -- Composition & Arrangement
Game Over -- Composition & Arrangement
Ranking Top -- Composition & Arrangement
Display Top -- Composition & Arrangement
Ranking Under 2nd -- Composition & Arrangement
Display Under 2nd -- Composition & Arrangement
Section Z (Arcade Version)
Credit -- Composition & Arrangement
Start Demo -- Composition & Arrangement
Stage 1 BGM -- Composition & Arrangement
Stage 2 BGM -- Composition & Arrangement
Stage 3 BGM -- Composition & Arrangement
Stage Clear -- Composition & Arrangement
Stage 4 BGM -- Composition & Arrangement
Stage 5 BGM -- Composition & Arrangement
Last Boss -- Composition & Arrangement
All Clear -- Composition & Arrangement
Game Over -- Composition & Arrangement
Ranking -- Composition & Arrangement
Ranking Display -- Composition & Arrangement
SonSon (NES Version)
Credit -- Composition & Arrangement
Opening Demo -- Composition & Arrangement
Start -- Composition & Arrangement
Sharp Shooting (Stage 1 & 4 BGM) -- Composition & Arrangement
Chaser (Stage 2 & 6 BGM) -- Composition & Arrangement
Go Mad (Stage 3 & 5 BGM) -- Composition & Arrangement
Last Stage Start -- Composition & Arrangement
Theme from Zapper (Last Stage BGM) -- Composition & Arrangement
Last Stage Clear -- Composition & Arrangement
Top Ranking -- Composition & Arrangement
2nd Ranking -- Composition & Arrangement
Legendary Wings (Arcade Version)
Credit -- Composition & Arrangement
Start Demo -- Composition & Arrangement
Game Start -- Composition & Arrangement
Area 1 -- Composition & Arrangement
Area 2 -- Composition & Arrangement
Area 3 -- Composition & Arrangement
Area 4 -- Composition & Arrangement
Area 5 -- Composition & Arrangement
Bonus Area -- Composition & Arrangement
Underground -- Composition & Arrangement
Sanctuary -- Composition & Arrangement
Underground Boss -- Composition & Arrangement
Area Boss -- Composition & Arrangement
Sanctuary Boss -- Composition & Arrangement
Area Clear 1 -- Composition & Arrangement
Area Clear 2 -- Composition & Arrangement
Ranking 1 -- Composition & Arrangement
Ranking 2 -- Composition & Arrangement
Ranking Display 1 -- Composition & Arrangement
Ranking Display 2 -- Composition & Arrangement
Continue -- Composition & Arrangement
Game Over -- Composition & Arrangement
1943 Kai (Arcade Version)
Anti-Aircraft Campaign BGM B -- Composition & Arrangement
Anti-Ship Campaign BGM C -- Composition & Arrangement
Forgotten Worlds (Arcade Version)
Credit -- Composition & Arrangement
Opening -- Composition & Arrangement
1 Round BGM -- Composition & Arrangement
2 Round BGM -- Composition & Arrangement
Middle Enemy A (Outside) -- Composition & Arrangement
3 Round BGM -- Composition & Arrangement
Big Enemy (Every World Boss) -- Composition & Arrangement
4 Round BGM -- Composition & Arrangement
5 Round BGM -- Composition & Arrangement
Middle Enemy B (Inside) -- Composition & Arrangement
6 Round BGM -- Composition & Arrangement
Shoppin' -- Composition & Arrangement
7 Round BGM -- Composition & Arrangement
8 Round BGM -- Composition & Arrangement
9 Round BGM -- Composition & Arrangement
Final Round Boss -- Composition & Arrangement
Round Clear -- Composition & Arrangement
Ending -- Composition & Arrangement
Staff Roll -- Composition & Arrangement
Game Over -- Composition & Arrangement
Last Duel (Arcade Version)
Credit -- Composition & Arrangement
Game Start -- Composition & Arrangement
Stage Start -- Composition & Arrangement
Mystery Zone (Stage 1 / Overworld) -- Composition & Arrangement
Stage Clear -- Composition & Arrangement
Galden's Route (Stage 1 / Sky) -- Composition & Arrangement
The Dark Route (Stage 2 / Overworld) -- Composition & Arrangement
Burning Route (Stage 2 / Sky) -- Composition & Arrangement
Frozen Route (Stage 3 / Overworld) -- Composition & Arrangement
The Galden (Stage 3 / Sky) -- Composition & Arrangement
Boss -- Composition & Arrangement
Ending 1 -- Composition & Arrangement
Ending 2 -- Composition & Arrangement
Ending 3 -- Composition & Arrangement
Continue -- Composition & Arrangement
Game Over -- Composition & Arrangement
Name Entry (Top) -- Composition & Arrangement
Name Entry (Under 2nd) -- Composition & Arrangement
Unused Tune -- Composition & Arrangement
Ghouls 'n Ghosts (Arcade Version)
Credit

-- Composition & Arrangement

Game Start

-- Composition & Arrangement

Title Back (Map)

-- Arrangement

1st BGM

-- Arrangement
1st Boss BGM -- Composition & Arrangement
2nd BGM -- Composition & Arrangement

2nd Boss BGM

-- Composition & Arrangement

3rd BGM

-- Composition & Arrangement

3rd Boss BGM

-- Composition & Arrangement

4th BGM

-- Composition & Arrangement

4th Boss BGM

-- Composition & Arrangement
5th BGM -- Composition & Arrangement
5th Boss BGM -- Composition & Arrangement
1st Lap End -- Composition & Arrangement
6th BGM -- Composition & Arrangement

Stage Clear (Key)

-- Composition & Arrangement
End -- Composition & Arrangement

Ending

-- Composition & Arrangement

Ranking Top

-- Composition & Arrangement

Display Top

-- Composition & Arrangement

Ranking Under 2nd

-- Composition & Arrangement

Display Under 2nd

-- Composition & Arrangement

Hurry Up

-- Composition & Arrangement
Death -- Composition & Arrangement
Game Over -- Composition & Arrangement
Continue -- Composition & Arrangement
Daimakaimura -G.S.M. Capcom 1-
Daimakaimura -Arrange Version- (Accum. Oraison ~ Ange. le. mort) -- Composition & Arrangement
Strider Hiryu -G.S.M. Capcom 2-
External links