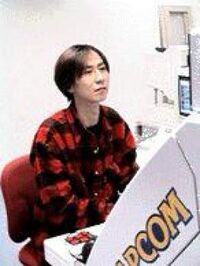 Takayuki Iwai (岩井 隆之) is a video game music composer best known as the main composer of the Darkstalkers series, as well as a contributor to nearly all of the new game series introduced on Capcom's CPS2 arcade system. This includes Dungeons & Dragons, Armored Warriors, X-Men: Children of the Atom, Star Gladiator, and Street Fighter Alpha 3. For most of his work with the company he was credited using his alias, "Anarchy Takapon".
Profile
[
]
Iwai is notable for pushing new types of theme music in fighting games, going beyond the traditional "stage and ending" route to include personal winning themes (Darkstalkers), stage themes independent from character themes (Darkstalkers 3) and going so far as to replace every Street Fighter character's theme in Street Fighter Alpha 3. His music style more often than not falls under the heavy metal genre (especially for the Armored Warriors series) and is also notable for utilizing multiple thematic gimmicks (especially for the Darkstalkers series), the most recognizable perhaps being the "water drop."
In 1996 he married fellow composer Yuki Satomura and would continue to work with her in many future games. Later that year he also composed the entirety of the first CPS3 title Red Earth.
Following his work on Street Fighter Alpha 3 (where he planned on implementing a CD-based custom CPS2 board sound system to produce a hard rock/metal soundtrack similar to the Guilty Gear series, but was forced to use MIDI format due to budget constraints), Iwai receded from music composition, instead acting mainly as a guitarist (and in one instance a vocalist) for his remaining work with the company.
In 2000, Iwai left Capcom to form the sound unit Wavelink Zeal with his wife. He has since been involved with titles such as R-Type Final, Musashi: Samurai Legend and Twinkle Star Sprites: La Petite Princesse. As of 2007, however, their partnership had dissolved when Takayuki left to join developer Crafts & Meister (formed by Capcom's own Noritaka Funamizu and Katsuhiro Sudo), with Wavelink Zeal officially shutting down in 2013. The two have since reformed under a new name: "ZEAL★DoQMaL".
Production History
[
]
Song Credits
[
]
Darkstalkers: The Night Warriors
Opening~Title -- Composition & Arrangement
Player Select 1 -- Composition & Arrangement
Player Select 2 -- Composition & Arrangement
Ranking Display -- Composition & Arrangement
Zabel Stage (Australia) -- Composition & Arrangement
Zabel Winning -- Composition & Arrangement
Zabel Ending -- Composition & Arrangement
Victor Stage (Germany) -- Composition & Arrangement
Victor Winning -- Composition & Arrangement
Victor Ending -- Composition & Arrangement
Felicia Stage (U.S.A.) -- Composition & Arrangement
Felicia Winning -- Composition & Arrangement
Felicia Ending -- Composition & Arrangement
Bishamon Stage (Japan) -- Composition & Arrangement
Bishamon Winning -- Composition & Arrangement
Bishamon Ending -- Composition & Arrangement
Morrigan Stage (Scotland) -- Composition & Arrangement
Morrigan Winning -- Composition & Arrangement
Morrigan Ending -- Composition & Arrangement
Sasquatch Stage (Canada) -- Composition & Arrangement
Sasquatch Winning -- Composition & Arrangement
Sasquatch Ending -- Composition & Arrangement
Staff Roll 1 -- Composition & Arrangement
Staff Roll 2 -- Composition & Arrangement
Opening -- Composition & Arrangement
Player Demo -- Composition & Arrangement
Ranking Display -- Composition & Arrangement
Player Select -- Composition & Arrangement
Map.1 -- Composition & Arrangement
Map.2 -- Composition & Arrangement
Area Clear -- Composition & Arrangement
Stage Clear -- Composition & Arrangement
Deserted Town (Stage 1) -- Composition & Arrangement
Win Back (Stage 2) -- Composition & Arrangement
Chase (Stage 3) -- Composition & Arrangement
Forgotten Ruins 1 (Stage 4-1) -- Composition & Arrangement
Forgotten Ruins 2 (Stage 4-2) -- Composition & Arrangement
Railroad in Flames (Stage 5) -- Composition & Arrangement
Truth (Stage 6) -- Composition & Arrangement
Starry Ocean (Stage 7) -- Composition & Arrangement
Continue -- Composition & Arrangement
AVA-13H Agmiss Theme -- Composition & Arrangement
TEX-66SH Rad Theme -- Composition & Arrangement
V2-200HL Sculd Theme -- Composition & Arrangement
SVA-1000S Helion Theme -- Composition & Arrangement
Mecha Brain Theme -- Composition & Arrangement
Score Count Demo -- Composition & Arrangement
SVA-100M Warlock Theme -- Composition & Arrangement
SVA-100MR Warlock Mark II Theme -- Composition & Arrangement
SVA-100MSR ν Warlock Theme -- Composition & Arrangement
Game Over -- Composition & Arrangement
Shooting Area -- Composition & Arrangement
Terminate Them! -- Composition & Arrangement
Demo.1 -- Composition & Arrangement
Demo.2 -- Composition & Arrangement
Demo.3 -- Composition & Arrangement
Demo.4 -- Composition & Arrangement
Demo.5 -- Composition & Arrangement
Demo.6 -- Composition & Arrangement
Mecha Brain Demo -- Composition & Arrangement
Farewell to Human -- Composition & Arrangement
Ending.1 -- Composition & Arrangement
Ending.2 -- Composition & Arrangement
Naming -- Composition & Arrangement
Ending Jeff Perkins -- Composition & Arrangement
Ending Ray Turner -- Composition & Arrangement
Ending Glenn Reed -- Composition & Arrangement
Ending Sarah White -- Composition & Arrangement
Staff Roll -- Composition & Arrangement
Opening Title -- Composition & Arrangement
Player Select -- Composition & Arrangement
Mutant Hunting -Colossus- -- Composition & Arrangement
Mojo World -Spiral- -- Composition & Arrangement
Space Port -Juggernaut- -- Composition & Arrangement
Ending -The Theme of Mojo 1- -- Composition & Arrangement
Ending -The Theme of Mojo 2- -- Composition & Arrangement
Staff Roll -- Composition & Arrangement
Night Warriors: Darkstalkers' Revenge
Opening~Title -- Composition & Arrangement
Player Select 1 -- Composition & Arrangement
Player Select 2 -- Composition & Arrangement
Lei-Lei Stage (China) -- Composition & Arrangement
Lei-Lei Winning -- Composition & Arrangement
Lei-Lei Ending 1 -- Composition & Arrangement
Lei-Lei Ending 2 -- Composition & Arrangement
Victor Stage (Germany) -- Composition & Arrangement
Victor Ending 2 -- Composition & Arrangement
Morrigan Stage (Scotland) -- Composition & Arrangement
Morrigan Ending 2 -- Composition & Arrangement
Zabel Stage (Australia) -- Composition & Arrangement
Zabel Ending 2 -- Composition & Arrangement
Felicia Stage (U.S.A.) -- Composition & Arrangement
Felicia Ending 2 -- Composition & Arrangement
Bishamon Stage (Japan) -- Composition & Arrangement
Bishamon Ending 2 -- Composition & Arrangement
Sasquatch Stage (Canada) -- Composition & Arrangement
Sasquatch Ending 2 -- Composition & Arrangement
Staff Roll 1 -- Composition & Arrangement
Opening-Title -- Composition & Arrangement
Robot Demo 1 -- Composition & Arrangement
Robot Demo 2 -- Composition & Arrangement
Ranking Display -- Composition & Arrangement
Player Select -- Composition & Arrangement
Story Demo 1 -- Composition & Arrangement
Megalopolis -- Composition & Arrangement
Machine Arena -- Composition & Arrangement
Winning Theme 1 -- Composition & Arrangement
Story Demo 3 -- Composition & Arrangement
Power Station -- Composition & Arrangement
Volcano -- Composition & Arrangement
Continue -- Composition & Arrangement
Story Demo 7 -- Composition & Arrangement
Airport -- Composition & Arrangement
Secret HQ -- Composition & Arrangement
Underwater 1 -- Composition & Arrangement
Underwater 2 -- Composition & Arrangement
Story Demo 8 -- Composition & Arrangement
Helion Theme -- Composition & Arrangement
Winning Theme 2 -- Composition & Arrangement
Story Demo 9 -- Composition & Arrangement
Space Fleet -- Composition & Arrangement
Story Demo 10 -- Composition & Arrangement
Warlock Theme 1 -- Composition & Arrangement
Arieta Ending 1 -- Composition & Arrangement
Arieta Ending 2 -- Composition & Arrangement
Jin Ending 1 -- Composition & Arrangement
Jin Ending 2 -- Composition & Arrangement
Naming -- Composition & Arrangement
Game Over -- Composition & Arrangement
Opening-Title -- Composition & Arrangement
Ranking Display -- Composition & Arrangement
Player Select 1 -- Composition & Arrangement
Player Select 2 -- Composition & Arrangement
VS. -- Composition & Arrangement
Spider-Man Stage -- Composition & Arrangement
Spider-Man Winning -- Composition & Arrangement
Spider-Man Ending -- Composition & Arrangement
Captain America Stage -- Composition & Arrangement
Captain America Winning -- Composition & Arrangement
Captain America Ending -- Composition & Arrangement
Iron Man Stage -- Composition & Arrangement
Iron Man Winning -- Composition & Arrangement
Iron Man Ending 1 -- Composition & Arrangement
Iron Man Ending 2 -- Composition & Arrangement
Doctor Doom Stage -- Composition & Arrangement
Doctor Doom Winning -- Composition & Arrangement
Theme of Doctor Doom -- Composition & Arrangement
Here Comes a New Challenger -- Composition & Arrangement
Juggernaut Stage -- Composition & Arrangement
Juggernaut Winning -- Composition & Arrangement
Juggernaut Ending 1 -- Composition & Arrangement
Juggernaut Ending 2 -- Composition & Arrangement
Blackheart Stage -- Composition & Arrangement
Blackheart Winning -- Composition & Arrangement
Blackheart Ending 1 -- Composition & Arrangement
Blackheart Ending 2 -- Composition & Arrangement
Super Puzzle Fighter II Turbo (Arcade Version)
Stage Morrigan -- Composition & Arrangement
Stage Lei-Lei -- Composition & Arrangement
Stage Felicia -- Composition & Arrangement
Capcom Logo -- Arrangement
To the Land of Myth ~Those Consecrated to the Fight~ (Opening-Title) -- Composition & Arrangement
Spoils of War (Ranking Display) -- Composition & Arrangement
The Guided (Player Select) -- Composition & Arrangement
To a Far Off Distance (Map Demo.1) -- Composition & Arrangement
No Retreat (Map Demo.2) -- Composition & Arrangement
Tension (Next Enemy Demo) -- Composition & Arrangement
Quickening (Story Demo.1) -- Composition & Arrangement
Noble Sacred Beast (Greedia Stage) -- Composition & Arrangement
Karma (Story Demo.2) -- Composition & Arrangement
Omen (Story Demo.3) -- Composition & Arrangement
Ayakashi of a Foreign Land (Zipang Stage) -- Composition & Arrangement
Seething Strength (Level Up Demo) -- Composition & Arrangement
Surge (Story Demo.4) -- Composition & Arrangement
A Sign (Story Demo.5) -- Composition & Arrangement
Embodiment of Evil and Tyranny (Alanbird Stage) -- Composition & Arrangement
Test One (Bonus Stage.1) -- Composition & Arrangement
Resolute (Story Demo.6) -- Composition & Arrangement
Icy Wicked Mind (Icelarn Stage) -- Composition & Arrangement
Relief (Story Demo.7) -- Composition & Arrangement
Attack (Story Demo.8) -- Composition & Arrangement
False Wings (Gora Stage) -- Composition & Arrangement
Truth (Story Demo.9) -- Composition & Arrangement
False God (Story Demo.10) -- Composition & Arrangement
Revered Praise (Crypt Stage) -- Composition & Arrangement
Test Two (Bonus Stage.2) -- Composition & Arrangement
Grave (Story Demo.11) -- Composition & Arrangement
Dignity (Story Demo.12) -- Composition & Arrangement
Advent of the Supreme Ruler (Darminor Stage.1) -- Composition & Arrangement
Tragic (Story Demo.13) -- Composition & Arrangement
Fascination (Story Demo.14) -- Composition & Arrangement
Squirming Darkness (Darminor Stage.2) -- Composition & Arrangement
Fear (Story Demo.15) -- Composition & Arrangement
Fierce Battle with Chaos (Darminor Stage.3) -- Composition & Arrangement
Man of Valor, Appear (A New Warrior Apprroaches) -- Composition & Arrangement
Oath (Leo Opening Theme) -- Composition & Arrangement
Dark Palpitation (Tabasa Opening Theme) -- Composition & Arrangement
The Way Back (Tao Opening Theme.1) -- Composition & Arrangement
After a Burnout... (Tao Opening Theme.2) -- Composition & Arrangement
Decree (Mukuro Opening Theme) -- Composition & Arrangement
Confrontation (VS.) -- Composition & Arrangement
Sword of the Unparalleled Emperor (Theme of Leo) -- Composition & Arrangement
Shout of Victory (Leo Winning Theme) -- Composition & Arrangement
Triumphant Return (Leo Ending Theme.1) -- Composition & Arrangement
Roar (Leo Ending Theme.2) -- Composition & Arrangement
Atonement with the Soul (Leo Ending Theme.3) -- Composition & Arrangement
Magic Square (Theme of Tabasa) -- Composition & Arrangement
Consequence (Tabasa Winning Theme) -- Composition & Arrangement
Into the Abyss... (Tabasa Ending Theme.1) -- Composition & Arrangement
Seal (Tabasa Ending Theme.2) -- Composition & Arrangement
Wriggling (Tabasa Ending Theme.3) -- Composition & Arrangement
Embrace (Tabasa Ending Theme.4) -- Composition & Arrangement
Combative Girl (Theme of Tao) -- Composition & Arrangement
My Victory! (Tao Winning Theme) -- Composition & Arrangement
Important Thing (Tao Ending Theme.1) -- Composition & Arrangement
I Will Not Show Tears (Tao Ending Theme.2) -- Composition & Arrangement
Setting Off (Tao Ending Theme.3) -- Composition & Arrangement
Like a Gust of Wind (Theme of Mukuro) -- Composition & Arrangement
Without Grief (Mukuro Winning Theme) -- Composition & Arrangement
Scheme (Mukuro Ending Theme.1) -- Composition & Arrangement
Everything Is Transient (Mukuro Ending Theme.2) -- Composition & Arrangement
Fate to Bear (Mukuro Ending Theme.3) -- Composition & Arrangement
Fantasia (Ending Theme) -- Composition & Arrangement
Succeeded Will (Continue) -- Composition & Arrangement
Demise (Game Over) -- Composition & Arrangement
A New Path (Staff Roll) -- Composition & Arrangement
50% (Location Ending Theme) -- Composition & Arrangement
War-Zard (CD)
Bonus Track.1 (Gigi Original Track) -- Composition & Arrangement
Bonus Track.2 (Leo Original Track) -- Composition & Arrangement
Darkstalkers 3 (Arcade Version)
Dirty Beret Logo -- Composition & Arrangement
Opening- Title -- Composition & Arrangement
Ranking Display -- Composition & Arrangement
Player Select.1 -- Composition & Arrangement
Player Select.2 -- Composition & Arrangement
Vanity Paradise -- Composition & Arrangement
Lei-Lei Winning Theme -- Composition & Arrangement
Lei-Lei Ending Theme.1 -- Composition & Arrangement
Lei-Lei Ending Theme.2 -- Composition & Arrangement
Sasquatch Winning Theme -- Composition & Arrangement
Sasquatch Ending Theme.1 -- Composition & Arrangement
Sasquatch Ending Theme.2 -- Composition & Arrangement
Tower of Arrogance -- Composition & Arrangement
Felicia Winning Theme -- Composition & Arrangement
Felicia Ending Theme.1 -- Composition & Arrangement
Felicia Ending Theme.2 -- Composition & Arrangement
Abaraya.1 -- Composition & Arrangement
Story Demo.2 -- Composition & Arrangement
Abaraya.2 -- Composition & Arrangement
Bishamon Winning Theme -- Composition & Arrangement
Bishamon Ending Theme.1 -- Composition & Arrangement
Bishamon Ending Theme.2 -- Composition & Arrangement
Lilith Winning Theme -- Composition & Arrangement
Lilith Ending Theme.1 -- Composition & Arrangement
Lilith Ending Theme.2 -- Composition & Arrangement
Bulleta Winning Theme -- Composition & Arrangement
Bulleta Ending Theme.1 -- Composition & Arrangement
Bulleta Ending Theme.2 -- Composition & Arrangement
Deserted Chateau -- Composition & Arrangement
Morrigan Winning Theme -- Composition & Arrangement
Morrigan Ending Theme.1 -- Composition & Arrangement
Morrigan Ending Theme.2 -- Composition & Arrangement
Forever Torment -- Composition & Arrangement
Zabel Winning Theme -- Composition & Arrangement
Zabel Ending Theme.1 -- Composition & Arrangement
Zabel Ending Theme.2 -- Composition & Arrangement
Victor Winning Theme -- Composition & Arrangement
Victor Ending Theme.1 -- Composition & Arrangement
Victor Ending Theme.2 -- Composition & Arrangement
Iron Horse, Iron Terror -- Composition & Arrangement
Q-Bee Winning Theme -- Composition & Arrangement
Q-Bee Ending Theme -- Composition & Arrangement
Story Demo.3 -- Composition & Arrangement
Shadow Winning Theme -- Composition & Arrangement
Shadow Ending Theme -- Composition & Arrangement
Continue -- Composition & Arrangement
Game Over -- Composition & Arrangement
Staff Roll -- Composition & Arrangement
Special Ending.1 -- Composition & Arrangement
Special Ending.2 -- Composition & Arrangement
Opening -- Composition & Arrangement
Ending -- Composition & Arrangement
Staff Roll -- Composition & Arrangement
Player Select -- Composition & Arrangement
Oboro Bishamon Winning Theme -- Composition & Arrangement
Limit Winning Theme -- Composition & Arrangement
Ending -- Composition & Arrangement
Plasma Sword: Nightmare of Bilstein
Prologue -- Composition & Arrangement
Opening-Title -- Composition & Arrangement
Ranking Display -- Composition & Arrangement
Next Stage -- Composition & Arrangement
Illusion of Peace -- Composition & Arrangement
Armament to Battle -- Composition & Arrangement
Fade to Silence -- Composition & Arrangement
Lead to Doom -- Composition & Arrangement
Here Comes a New Challenger -- Composition & Arrangement
Story Demo.1 -- Composition & Arrangement
Against the Absolute -- Composition & Arrangement
Story Demo.2 -- Composition & Arrangement
Fate of the Galaxy -Stage 8- -- Arrangement
Winning Theme -- Composition & Arrangement
Ending Theme.1 -- Composition & Arrangement
Ending Theme.2 -- Composition & Arrangement
Hayato Ending Theme.1 -- Composition & Arrangement
Hayato Ending Theme.2 -- Composition & Arrangement
Saturn Ending Theme -- Composition & Arrangement
Gamof Ending Theme -- Composition & Arrangement
Gerelt Ending Theme.1 -- Composition & Arrangement
Gerelt Ending Theme.2 -- Composition & Arrangement
Vector Ending Theme.1 -- Composition & Arrangement
Vector Ending Theme.2 -- Composition & Arrangement
Zelkin Ending Theme -- Composition & Arrangement
Gore Ending Theme -- Composition & Arrangement
Blood Ending Theme -- Composition & Arrangement
B. Hayato Ending Theme -- Composition & Arrangement
Prince Ending Theme -- Composition & Arrangement
Gantetsu Ending Theme -- Composition & Arrangement
Eagle Ending Theme -- Composition & Arrangement
Luca Ending Theme -- Composition & Arrangement
Shaker Ending Theme -- Composition & Arrangement
Byakko Ending Theme -- Composition & Arrangement
Kaede Ending Theme.1 -- Composition & Arrangement
Kaede Ending Theme.2 -- Composition & Arrangement
Kaede Ending Theme.3 -- Composition & Arrangement
Rai-On Ending Theme -- Composition & Arrangement
Continue -- Composition & Arrangement
Score Display -- Composition & Arrangement
Name Entry -- Composition & Arrangement
Game Over -- Composition & Arrangement
Staff Roll -- Composition & Arrangement
Darkstalkers 3 (Saturn Version)
Oboro Bishamon Ending Theme.1 -- Composition & Arrangement
Oboro Bishamon Ending Theme.2 -- Composition & Arrangement
Street Fighter Alpha 3 (Arcade Version)
Nobody blink -Opening-Title- -- Composition & Arrangement
Triumph -Ranking Display- -- Composition & Arrangement
Who'll be your double? -Character Select- -- Composition & Arrangement
The road -Theme of Ryu Type. 1- -- Composition & Arrangement
Proof of divinity -Theme of Adon- -- Composition & Arrangement
Decisive bout -Theme of Nash- -- Composition & Arrangement
Heavy swell -Theme of Zangief- -- Composition & Arrangement
Gimmick -Theme of Rolento- -- Composition & Arrangement
Prismatic stars -Theme of R. Mika- -- Composition & Arrangement
Wild nature -Theme of Blanka- -- Composition & Arrangement
Brave or grave -Theme of Vega Type. 2- -- Composition & Arrangement
Daybreak -Ending-Staff Roll- -- Composition & Arrangement
Tech Romancer (Arcade Version)
Street Fighter Alpha 3 (PSX and Saturn Versions)
-World Tour- -- Composition & Arrangement
Call to action -Theme of Fei Long- -- Composition & Arrangement
-Dramatic Battle- -- Composition & Arrangement
Demonoid Phenomenon (Human Body Laboratory Stage) -- Composition & Arrangement
Ice Frontier (Ice Field Stage) -- Composition & Arrangement
Continue (Continue) -- Composition & Arrangement
Game Over (Game Over) -- Composition & Arrangement
Item Collection (Name Entry & Item Collection) -- Composition & Arrangement
Prologue -- Guitars (w/Katsuyuki Nagano)
Justice Academy Quarry -- Guitars (w/Katsuyuki Nagano)
Taiyo Academy Rooftop -- Guitars (w/Katsuyuki Nagano)
Aoharu Station Square -- Guitars (w/Katsuyuki Nagano)
Konjo Shrine -- Guitars (w/Katsuyuki Nagano)
Yamato River Embankment -- Guitars (w/Katsuyuki Nagano)
Seijyun Girls High School Courtyard -- Guitars (w/Katsuyuki Nagano)
Taiyo Academy Classroom -- Guitars (w/Katsuyuki Nagano)
Justice Academy -- Guitars (w/Katsuyuki Nagano)
Conclusion! -- Guitars (w/Katsuyuki Nagano)
Rise Up Again -- Guitars (w/Katsuyuki Nagano)
End -- Guitars (w/Katsuyuki Nagano)
Footprint of Victory -- Guitars (w/Katsuyuki Nagano)
Project Justice Committee -- Guitars (w/Katsuyuki Nagano)