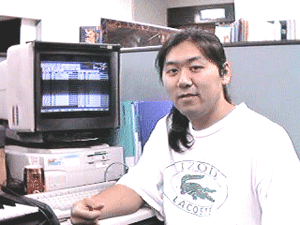 Syun Nishigaki (西垣 俊) (better known as just SYUN) is a sound composer and former Capcom employee. He has also gone by the alias Kobekko.
Syun's work with Capcom ranges from the CPS1 era to the fifth console generation, and is usually signified by the use of the sitar, tabla, and other Asian instruments.
Along with Isao Abe, Nishigaki was a pioneer of the CPS2 soundboard, acting as Sound Director for Super Street Fighter II, where he composed the themes for Cammy White and Fei Long as well as Akuma (Gouki in Japan) in Turbo. This was later followed by Eco Fighters, Street Fighter Alpha 2 and Battle Circuit as well as other interspersed works. His last title with the company was Dino Crisis.
Following Capcom, Syun has worked on games published by Topcat (Zap the Magic, L) and Mercurius (AquaS), usually working with Ryo Mizutsuki (who herself had worked with Syun during his Capcom days as Kiyo).
Production History
[
]
Song Credits
[
]
Super Street Fighter II (Arcade Version)
Opening Demo -- Composition & Arrangement
Player Select -- Arrangement
Tournament -- Composition & Arrangement
Ken Stage -- Arrangement
Ken Stage (Critical) -- Arrangement
Ken Ending -- Arrangement
Ken Ending 2 -- Arrangement
Ryu Stage -- Arrangement
Ryu Stage (Critical) -- Arrangement
Ryu Ending -- Arrangement
Chun-Li Stage -- Arrangement
Chun-Li Stage (Critical) -- Arrangement
Chun-Li Ending -- Composition & Arrangement
Chun-Li Ending 2 -- Composition & Arrangement
Chun-Li Ending 3 -- Composition & Arrangement
Fei Long Stage -- Composition & Arrangement
Fei Long Stage (Critical) -- Composition & Arrangement
Fei Long Ending -- Composition & Arrangement
Cammy Stage -- Composition & Arrangement
Cammy Stage (Critical) -- Composition & Arrangement
Cammy Ending -- Composition & Arrangement
E. Honda Stage -- Arrangement
E. Honda Stage (Critical) -- Arrangement
E. Honda Ending -- Arrangement
Dhalsim Stage -- Arrangement
Dhalsim Stage (Critical) -- Arrangement
Dhalsim Ending -- Arrangement
Blanka Stage -- Arrangement
Blanka Stage (Critical) -- Arrangement
Blanka Ending -- Arrangement
Continue -- Arrangement
Congratulations! -- Composition & Arrangement
Staff Roll -- Arrangement
Game Over -- Arrangement
Super Street Fighter II Turbo (Arcade Version)
Opening Demo -- Composition & Arrangement
Player Select -- Arrangement
Gouki Stage -- Composition & Arrangement
Gouki Stage (Critical) -- Composition & Arrangement
Moon Night -Psylocke- -- Composition & Arrangement
Ice on the Beach -Iceman- -- Composition & Arrangement
Genosha -Sentinel- -- Composition & Arrangement
Continue -- Composition & Arrangement
Game Over -- Composition & Arrangement
Ending -The Theme of Battle- -- Composition & Arrangement
Ending -Forest- -- Composition & Arrangement
Ending -Summer Beach- -- Composition & Arrangement
Street Fighter Alpha (Arcade Version)
Gouki Stage -- Composition & Arrangement
Gouki Ending -- Composition & Arrangement
Continue -- Arrangement
Sodom Stage -- Arrangement
Sodom Ending -- Arrangement
Game Over -- Composition & Arrangement
Ranking Display 1 -- Composition & Arrangement
Ranking Display 2 -- Composition & Arrangement
Dramatic Battle -- Arrangement
Opening -- Composition & Arrangement
Player Select -- Composition & Arrangement
Map Display -- Composition & Arrangement
A bit of blue sky between the clouds - Mission 1 -- Composition & Arrangement
The red naval port - Mission 2 -- Composition & Arrangement
Dance of green gnome - Mission 3 -- Composition & Arrangement (w/Tatsuro Suzuki) [NOTE: Syun did the first part, Tatsuro did the second]
Karbert Armor -- Composition & Arrangement
Silver ice sheet - Mission 4 -- Composition & Arrangement
Sancho Pedro -- Composition & Arrangement
Grayish tornado - Mission 6 -- Composition & Arrangement
The last ditch fight - Mission 7 -- Composition & Arrangement
Black Noise -- Composition & Arrangement
Mission Clear -- Composition & Arrangement
Ending -- Composition & Arrangement
Game Over -- Composition & Arrangement
Score Ranking -- Composition & Arrangement
1942 Main BGM -- Arrangement [NOTE: Hidden track]
Street Fighter Alpha 2 (Arcade Version)
Stage Chun-Li -- Arrangement
Stage Sodom -- Arrangement
Stage Nash -- Arrangement
Stage Vega -- Arrangement
Stage End -- Arrangement
Continue -- Arrangement
Here Comes a New Challenger -- Arrangement
Versus Demo 1 -- Composition & Arrangement
Ending Chun-Li -- Composition & Arrangement
Ending Sodom -- Arrangement
Ending Nash 1 -- Composition & Arrangement
Ending Nash 2 -- Composition & Arrangement
Ending Vega -- Composition & Arrangement
Player Select -- Arrangement
Versus -- Arrangement
Stage Dhalsim -- Composition & Arrangement
Stage Gouki -- Composition & Arrangement
Game Over -- Composition & Arrangement
Ranking Display 1 -- Composition & Arrangement
Ranking Display 2 -- Composition & Arrangement
Ending Dhalsim -- Arrangement
Ending Gouki 1 -- Composition & Arrangement
Ending Gouki 2 -- Composition & Arrangement
Super Puzzle Fighter II Turbo (Arcade Version)
Stage Chun-Li -- Arrangement
Stage Gouki -- Composition & Arrangement
Continue -- Arrangement
Game Over -- Composition & Arrangement
Ranking 2 -- Composition & Arrangement
Mega Man 2: The Power Fighters
Ranking -- Arrangement
Quick Man -- Arrangement
Street Fighter Alpha 2 (PSX Version)
Stage Chun-Li -- Arrangement
Stage Sodom -- Arrangement
Stage Nash -- Arrangement
Stage Vega -- Arrangement
Stage End -- Arrangement
Continue -- Arrangement
Here Comes a New Challenger -- Arrangement
Versus Demo 1 -- Composition & Arrangement
Ending Chun-Li -- Composition & Arrangement
Ending Sodom -- Arrangement
Ending Nash 1 -- Composition & Arrangement
Ending Nash 2 -- Composition & Arrangement
Ending Vega -- Composition & Arrangement
Player Select -- Arrangement
Versus -- Arrangement
Stage Dhalsim -- Composition & Arrangement
Stage Gouki -- Composition & Arrangement
Game Over -- Composition & Arrangement
Ranking Display 1 -- Composition & Arrangement
Ranking Display 2 -- Composition & Arrangement
Ending Dhalsim -- Arrangement
Ending Gouki 1 -- Composition & Arrangement
Ending Gouki 2 -- Composition & Arrangement
Stage Cammy -- Arrangement
Resident Evil 2 (PSX, PC and Dreamcast Versions)
Annette's Recollection -- Composition & Arrangement (w/Shusaku Uchiyama) [NOTE: Syun did the latter half only]
Is Ada Spy!? -- Composition & Arrangement
Escape from Laboratory -- Composition & Arrangement
Good Bye, Leon... -- Composition & Arrangement
Mother -- Composition & Arrangement
The evil eye -- Composition & Arrangement
Destined to be malformed -- Composition & Arrangement
Dropping into the water -- Composition & Arrangement
Dropping again -- Composition & Arrangement
This is my nest -- Composition & Arrangement
Like a shadow -- Composition & Arrangement