Jurassic World: Dominion Dominates Fandom Wikis - The Loop
Play Sound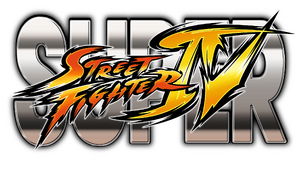 Super Street Fighter IV (スーパーストリートファイターIV, Sūpā Sutorīto Faitā Fō?) is a 2.5-dimensional fighting game, and is an update of Street Fighter IV.
It features additional characters and character tweaks based on community feedback. It also features an improved online mode. It was released as a standalone game for the Xbox 360 and PlayStation 3 on April 27th, 2010 for North America, April 28th, 2010 for Japan, and April 30th, 2010 for Europe. The game was also released in arcades exclusively in Japan,[1] before being released as additional DLC content. Super Street Fighter IV: 3D Edition was also released for the 3DS as a launch title.
Gameplay
Super Street Fighter IV is rebalanced, with many top-tier characters having their abilities slightly "nerfed" and low-tier characters receiving upgrades. There are several new game modes.
Team Battle Mode - 1-4 players can take on another 1-4 online. The first players on each team face off, and the winner faces the next player on the opposing team, until all players from a team have been eliminated.
Endless Battle Mode - players queue to challenge the current "King of the Hill", with losers being sent to the back of the queue, resembling the "I Got Next" system that operates in the typical local arcade. Players who are not currently playing can comment on the match in progress.
The Replay Channel differs from the old Replay Mode, allowing anyone to save up to 150 replays and share them with friends online, as well as upload them to the leaderboard if their Battle Points (BP) are high enough. Players can then watch replays of matches from around the world, even being able to see the inputs as the players pressed them. Replays saved to the hard drive can also be viewed in slow motion. Replays are categorized according to the characters fighting, the categories being "Originals", "Alpha", "Turbo and III", "Newcomers" and "Boss".
Bonus Stages in Single-Player Arcade Mode, where the player races against the clock to destroy a car, or attempts to destroy falling barrels. The player can choose to skip these by turning them off in options; they can also challenge them outside of Arcade Mode.
Reworked Tournament Mode similar to that in the original SF4, which was released as downloadable content. The mode supports upcoming "Capcom Cup" tournament events.[2]
Every character are now able to select between two Ultra Combos. All 25 original characters are able to choose from three outfits: their default, their old DLC costumes, and a brand-new DLC outfit released later on. New characters have a default costume and one DLC outfit. 6 of the original 25 fighters (C. Viper, Cammy, Chun-Li, Guile, Ryu, and Seth) all have second rivals, in addition to their first rival. The player is able to select which rival they wish to face by whether or not they press all three kick buttons when the "Now! Fight your rival!" message appears. The other characters have only one rival. The new 10 characters also only have one rival.
Story
Super Street Fighter IV is officially set in the same timeframe as the original Street Fighter IV. As confirmed by scenario writer Emiko Kawasaki, the story of this game happens "behind the scenes" at the same time as the story of the original game.[3] While on its surface the original game's story is centered on Abel, SSFIV is centered on Juri, who is as a character the exact opposite of Abel[3]. When combined, both games give the full story of the International Fighting Tournament held by Seth and S.I.N..
Characters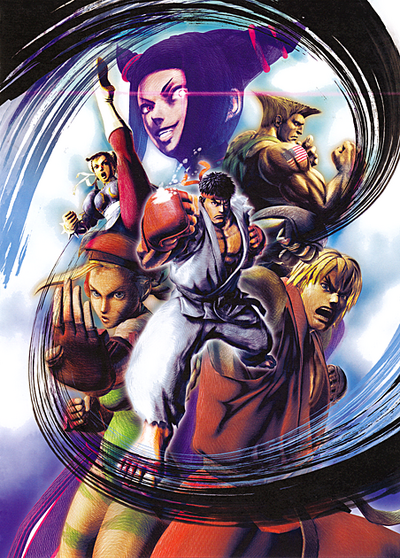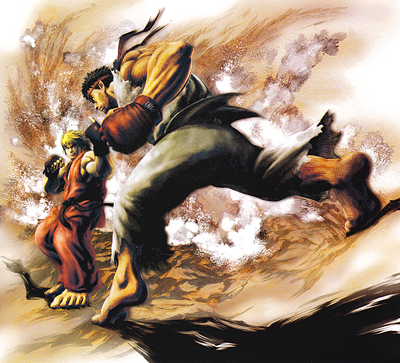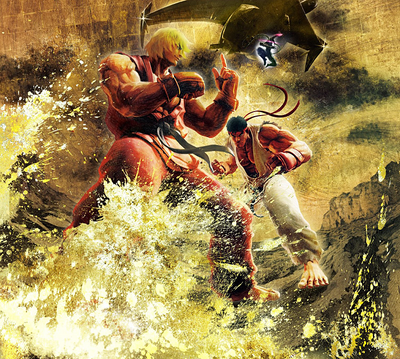 New Characters
Decapre
(Ultra Street Fighter IV only)
Hakan
Oni
(Arcade Edition only)
Juri
Development
Proof of Super Street Fighter IV was first made public accidentally when the German version of GamePro magazine took pictures of Yoshinori Ono in which a game, supposedly Street Fighter IV, is seen featuring T. Hawk and a new logo with a big metallic S behind the Street Fighter logo, much like the Super Street Fighter II logo.
Capcom officially hinted at the game when they opened a teaser site in their official Japanese website. An official announcement was made on September 28, 2009, along with a spring 2010 release date, for the Xbox 360 and PlayStation 3. Having been deemed as too large an update to be deployed as DLC, the game was made into a stand-alone title, but is intended to carry a price tag lower than that of a full retail game. Capcom also hinted at bonus features for people who already own Street Fighter IV.
The game is planned to feature ten additional characters, as well as tweaks and changes to the existing ones, such as new ultra combos. Among the added characters are T. Hawk and Dee Jay, who were initially intended to be in the original Street Fighter IV but later dropped. Also revealed was Juri, an all new character, along with Adon from the original Street Fighter, and Cody and Guy from Final Fight, characters who at that time were last featured in Final Fight: Streetwise. Dudley, Ibuki and Makoto from the Street Fighter III games were revealed as playable characters via the February 16th issue of Famitsu.
The game feature a few additional online modes, including Team Battle with up to 8 players, Replay Channel, which allows players to view and save replays from around the world, and Endless Battle, in which the winner plays against a rotating group of players. The game also sees the return of the Car and Barrel bonus stages from the Street Fighter II games. A downloadable Tournament mode is also featured.
Each character now has an additional alternate costume (plus the extra ones from the first game, totaling 3 costumes for characters in Street Fighter IV and 2 for the newly introduced), new rival battles and 2 Ultra Combos. The Ultra Combos are selectable, similar to the Super Arts of Street Fighter III.
Versions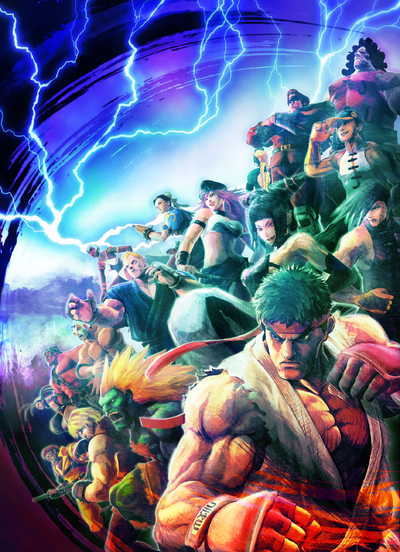 Arcade Edition
Four new characters were added to the arcade edition of Super Street Fighter IV; the twin brothers Yun and Yang (from the Street Fighter III games), Evil Ryu and a new version of Akuma called Oni. The extra characters are available as DLC. It was originally going to be the final SFIV update, until Ultra Street Fighter IV was announced.
3D Edition
A 3D version was made for the Nintendo 3DS handheld. The new features include true 3D graphics, online play, anonymous local wireless play, and a "Chance Encounter" feature. Graphical changes include the ability to play the game from an altered camera angle (for example, from the left-hand side). The touch screen can also be used for easy use of any attack the player chooses to map to one of four touchscreen buttons. The game feature both expert and beginner input systems.
Super Street Fighter IV: PachiSlot Edition
Super Street Fighter IV: PachiSlot Edition is a pachinko slot game version of Super Street Fighter IV released by Enterrise on April 2016 in Japan. The game was also released for mobile phones on June 2016.
Ultra
Ultra Street Fighter IV, the update of Super Street Fighter IV: Arcade Edition, was the 4th update to the Street Fighter IV series overall. It features additional characters, stages, new modes and character tweaks based on community feedback. Ultra Street Fighter IV was first released to Japanese arcades via the NESICA system on April 18 2014 (however, the fifth new character, Decapre, was not playable at first, as Capcom was still fine-tuning the character. She would be added to the roster of the arcade version at a later date, via an update patch). Those who already owned Super Street Fighter IV or Super Street Fighter IV: Arcade Edition were able to buy the game as an add-on for $14.99. It was released for the PlayStation Network in North America, June 3 and the Xbox Live Arcade in both North America and Europe, June 4. It was later released as a standalone game for the Xbox 360, PlayStation 3 and PC for $39.99 on August 2014.
The additional characters not present in previous versions are Elena, Hugo, Poison, Rolento and Decapre, the last one making her fighting game debut.
The game has six "new" stages, all of which are from Street Fighter X Tekken.
There is also a preorder bonus that includes an alternate costume for each of the new playable characters.
This title update also features brand new modes: Elimination and Online Training. Elimination is an improved Team Battle mode for online play, bearing great resemblance to the three-on-three survival style from The King of Fighters series. Online Training makes its return from Street Fighter X Tekken, allowing for players to train together online.
Another addition is the "Edition Select" feature. Taking a page from Hyper Street Fighter II: The Anniversary Edition, players are able to choose which version of their character they would like to play. Under personal actions, the versions are labeled as SFIV, SSFIV, SSFIV AE, SSFIV AE R, USFIV and the "OMEGA" mode (DLC only).
The Omega mode is highly notable for introducing wholly unique moves and setups for every character, sometimes bringing back attacks from other games, or altering gameplay altogether. Billed as a for-fun mode without regard for balance, some abandoned changes originally planned for the Ultra update eventually made its way here. This mode is not tournament legal, with the Ultra mode declared as the defacto tournament standard.
Downloadable Content
Preorders of Ultra Street Fighter IV included the "2014 Challengers Costume Pack", new costumes designed by Udon for Decapre, Elena, Hugo, Poison and Rolento.
A set of "Summer Vacation" costumes, featuring as the name suggest summer vacation-themed costumes, was released on August 12th, 2014:
Shoryuken Pack: Dan, Gouken, Ken, Akuma, Ryu
Femme Fatale Pack: Cammy, Rose, Sakura, C. Viper, Chun-Li
Shadaloo Pack: Sagat, Balrog, M. Bison, Seth, Vega
Challengers 1 Pack: Guy, Hakan, Dudley, Dee Jay, Makoto
Challengers Pack 1: Juri, Adon, Ibuki, T. Hawk, Cody
Classic Pack: Blanka, Gen, Dhalsim, Fei Long, Guile
Brawler Pack: E. Honda, Rufus, Zangief, El Fuerte, Abel
Arcade Challengers Pack: Yang, Oni, Yun, Evil Ryu
2014 Challengers Pack: Hugo, Rolento, Decapre, Elena, Poison
"Wild Costumes" featured animal-themed alternate costumes.
Shoryuken Wild Pack: Gouken, Ryu, Dan, Ken, Akuma
Femme Fatale Wild Pack: Chun-Li, Cammy, Sakura, C. Viper, Rose
Challengers Wild Pack 1: Hakan, Dudley, Guy, Makoto, Dee Jay
Challengers Wild Pack 2: Ibuki, Cody, T. Hawk, Juri, Adon
Classic Wild Pack: Fei Long, Guile, Gen, Dhalsim, Blanka
Brawler Wild Pack: Zangief, El Fuerte, Rufus, E. Honda, Abel
Arcade Challengers Wild Pack: Evil Ryu, Yang, Oni, Yun
Shadaloo Wild Pack: M. Bison, Seth, Balrog, Vega, Sagat
2014 Challengers Wild Pack: Elena, Poison, Decapre, Rolento, Hugo
For Halloween, "Horror Costumes" featured as the name suggest, horror-themed costumes for the characters and was released in 2015.
Shoryuken Horror Pack: Ryu, Ken, Akuma, Gouken, Dan
Femme Fatale Horror Pack: Chun-Li, C. Viper, Sakura, Rose, Cammy,
Brawler Horror Pack: Zangief, E. Honda, Rufus, Abel, El Fuerte
Shadaloo Horror Pack: M. Bison, Sagat, Balrog, Vega, Seth
Classic Horror Pack: Guile, Blanka, Dhalsim, Gen, Fei Long
Challengers Horror Pack 1: Hakan, Makoto, Guy, Dudley, Dee Jay
Challengers Horror Pack 2: Juri, Ibuki, Cody, Adon, T. Hawk
Arcade Challengers Horror Pack: Yun, Yang, Evil Ryu, Oni
2014 Challengers Horror Pack: Rolento, Elena, Poison, Hugo, Decarpe
Gallery
Box Art
Merchandise and Advertisements
Trivia
Cammy's alternate horror costume in Ultra Street Fighter IV is a reference to fellow Capcom fighter Q Bee of Darkstalkers fame.
Super Street Fighter IV's logo appears as a billboard in Dead Rising 3's DLC mode Super Ultra Dead Rising 3' Arcade Remix Hyper Edition EX + α.
References
External Links