Street Fighter V (ストリートファイターV, Sutorīto Faitā Faibu?) is a 2.5D fighting game and overall the sixth main installment in Capcom's Street Fighter series of fighting games. It is developed and published by Capcom and co-developed by Dimps[1] and Valve, released exclusively for the PlayStation 4 and PC, with a later release for Linux.[2] Cross-platform player is available between between the Windows and PlayStation 4 versions. Street Fighter V runs on the Unreal Engine 4[3] and was released on February 16th, 2016.[4] An updated version, Street Fighter V: Arcade Edition, was released in January 16, 2018.
Gameplay
Edit
In comparison to the Street Fighter IV games, the overall gameplay in Street Fighter V has some significant changes: attack animations are more slower, and the character art and 3D models are redesigned to feel more realistic. Revenge Gauges and possible Super Arts were features originally shown at the Capcom Cup 2014; the former was apparently scrapped, while the latter appears to have been retooled in the form of Critical Arts.
Features
Edit
The features are closer in style to the Street Fighter Alpha series. EX Special moves return from the most recent games, along with a Guard Break meter like the one seen in the Alpha games. New features include the V-Gauge, a separate meter used for attacks such as the V-Skill, V-Trigger and V-Reversal, which are unique to each character. Another new addition to the series is the presence of destructible walls and other similarly interactive elements such as "knockout zones" (also known as "K.O zones"); the left and right edges of a stage with knockout zones can cause special cinematic knockouts if the final blow is landed at the corners.
Unlike with previous Street Fighter games, gameplay expansions and changes will not come in new installments but rather gradually be added to the game over the long term.[5] Players have the choice of paying for DLC characters, alternate costumes, alternate color schemes and new stages as they are added via in-game Fight Money currency or by purchasing real world currencies. The game previously used Zenny as one of the two currencies but it was dropped as of June 2016.[6] No on-disc DLC will be added.[7]
The game features the returning training mode, a survival mode, a "Capcom Fighting Network" mode and a tutorial mode (with story art drawn by Bengus).
Street Fighter V is the first game in the series to feature a proper Story Mode (with the execption of the Street Fighter: The Movie home version game), there are two types; one is the "Character Story" (also known unofficially as "Prologue Story") that offers a background prologue of each playable character and the other is a full fledged cinematic story mode (referred in the in-game menu as "General Story") titled A Shadow Falls[6] that was released in June 2016 as a free DLC expansion. The latter mode can take three to four hours to finish and it has two difficulty levels, "Normal" and "Extra". Finishing A Shadow Falls in normal and extra mode granted players 30,000 and 50,000 fight money respectively before the release of Street Fighter V: Arcade Edition.
Finishing single-player content will also grant players fight money. The game has also trophy achievements,[8] a Spectator mode, a Challenge mode and the PlayStation 4 version is compatible with PlayStation 3 controllers.
Fighters
Edit
The default roster consists of sixteen fighters; eight veterans that have appeared frequently in the series, four veterans that have not been playable since Street Fighter Alpha 3, and four new characters. DLC fighters are available; with the first wave consisting of six fighters avaliable in different release dates in 2016. A second wave of DLC fighters are also avalaible in different release dates in 2017. A DLC fighter cost 100,000 in Fight Money.
According to Matt Dahlgren, Capcom's marketing manager, all "different iterations" of the series' fighters will be featured in the game.[9] Arika's vice president Ichiro Mihara stated however that there are no plans to include the Street Fighter EX characters.[10]
The storyline in Street Fighter V takes place between Street Fighter IV and Street Fighter III,[11] and it is presented in a different manner from previous Street Fighter games as Capcom has paid attention to how story modes in other competitors' fighting games have been handled[12] as well as noting the fans' displeasure in how the story in the Street Fighter IV games was handled.[13]
Street Fighter V's cinematic story expansion, A Shadow Falls, depicts the ultimate battle between Shadaloo and the World Warriors who rise up against the evil organization. Seven "Black Moons" are deployed by Shadaloo, granting M. Bison unimaginable power and enveloping the earth in complete darkness. Seeing the moons mysteriously appear in the sky, Ryu, Ken, and Chun-Li embark on an epic journey around the world to retrieve fragment pieces that are the key to stopping the "Black Moons" before it's too late. Along the way, they encounter the rest of the World Warriors, each of whom have their own agendas and motivations in mind.
Characters
Edit
Returning fighters (default)
Edit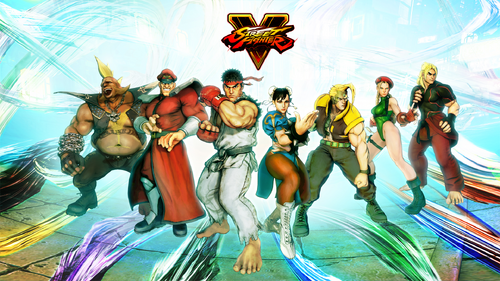 New fighters (default)
Edit
Downloadable fighters
Edit
Background/story appearances
Edit
List of playable characters who are seen in stage backgrounds, character stories and/or the cinematic story mode and don't appear playable in-game unless officially noted otherwise (list doesn't include DLC characters).
| Character | Appearance |
| --- | --- |
| Abel | Guile's character story/General story |
| C. Viper | Character story for M. Bison/Juri/Urien |
| Dan | Shopkeeper/Alex's character story |
| Decapre | Cammy's character story/General story |
| E. Honda | Alex's character story |
| Evil Ryu | Ryu's character story |
| Gen | Akuma's character story |
| Gill | General story/Kolin's character story |
| Gouken | Tutorial Mode/Ryu's character story/Rashid's character story |
| Hakan | Alex's character story |
| Juli | General story |
| Juni | Cammy's character story |
| Necro | Appears in Spooky Arena stage (alternate version of Underground Arena stage) |
| Oro | Dhalsim's character story/Menat's character story |
| Rufus | Appears in Ring of Destiny stage. |
| Sean | Laura's character story/General story/Blanka's character story |
Development
Edit
In 2011, former Capcom employee Seth Killian suggested that Street Fighter V would arrive before 2019, saying "If I have anything to say about it, and I do, you will not have to wait ten years for Street Fighter 5".[citation needed] In July 2013, Street Fighter producer Yoshinori Ono commented that while he desired to make a Street Fighter V for an eighth-generation console, such as the PlayStation 4 and Xbox One, a next-generation game would require a large staff and a large budget.[citation needed] He also stated that making the game a free-to-play title was an option, though he was not fully open to it, and confirmed that the game was currently not in development.[citation needed] In June 2014, Ono refuted claims that Street Fighter V would include a "pay to win option", citing that Street Fighter V was still in the early planning stages.[citation needed] The game originally had photo-realistic graphics during early development but it was later dropped.[citation needed] Capcom plans to support Street Fighter V until at least year 2020.[14]
On December 5, 2014, a teaser trailer for Street Fighter V was unintentionally released by Capcom to the public before being taken down again. The official announcement was made at Sony's PlayStation Experience event on December 6.
The first gameplay demonstration of Street Fighter V took place at the Capcom Cup grand finals tournament on Saturday, December 13 2014 in San Francisco, CA.
On June 2015, a battle system trailer was released.[15] On June 12, 2015, Capcom clarified that the game will never come out in any form for the Xbox One due to a development partnership between Sony Computer Entertainment and themselves.[16] On the partnership, Capcom's Matt Dahlgren said "Part of the reason we partnered up with Sony is, we share the same vision for the growth potential in the fighting game space. I'd say the key aspect is working with us on executing cross platform play, this is going to be the first time we've ever united our community into a centralized player base".[17]
It was confirmed through Capcom's Saikyo Blog that the character themes for the returning characters would be in the game.[18] During EVO 2015, Capcom revelead many SFV details.[19] The game incorporates a new Lag-free netcode called Kagemusha, players need only one disc for Street Fighter V, any system updates will come as a free online update and all of the characters' moves are totally unique, as the game does not have a standard mechanic like the Focus Attack. Street Fighter V is considered by Capcom an easy to play game but hard to master.
A file dump of the PC beta test on October 2015 suggest that Street Fighter V will or was going to have VR (Virtual Reality) support in the future,[20] meaning the game can support VR headsets such as Sony's PlayStation VR.
The image song was chosen by Capcom to be Survivor by Man With A Mission.[21]
Before the game's release, Capcom and community manager Matt Edwards introduced the default cast for players not familiar with the series through a webseries called "SFV: Character Introduction". Another webseries is the "SFV: Official Guide" videos of the characters.
Merchandise
Edit
Udon stated that they have plans for comics tie-in for Street Fighter V and that they are working with Capcom in order to have the right amount of synergy with the game's story.[22] Their first Street Fighter V-related comic from Udon, Street Fighter V: The Life and Death(s) of Charlie Nash, focus on Charlie's status since his last appearance in Udon's Street Fighter comics, and the details behind his "revival" leading up to his appearance in Street Fighter V. The comic was first available at the San-Diego Comic-Con International 2015, and was originally not available in stores[23] but it was released as a one-shot comic in March 2016.[24] A limited edition Street Fighter V comic book, titled Street Fighter V #1, was scheduled for "Free Comic Book Day" in 2016. The one-shot special features three all-new stories focused on the new and returning cast of the game.[25]
A Street Fighter V Collector's Edition and pre-order costumes was announced on August 31th.[26] An alternate cover, depicting Ryu and Chun-Li in their alternate cosutmes, for the Japanese box art cover was available to those who pre-ordered the game in Japan.[27]
The Japanese Collector's Edition, called Street Fighter V Valuable Edition, features a vital box for the game drawn by Bengus, the Street Fighter V: Visionary Book, an official artbook which also includes a short story manga by Masahiko Nakahira (a well-known manga author who has done several Street Fighter manga books in the past and was responsible for the creation of Evil Ryu and Karin), and "Shadaloo Fighter Research DVD", a DVD tutorial for the game's basics and combos for the characters as well as printed character command lists with more art by Bengus.[28] The Collector's Edition can be purchased exclusively through the game's E-Capcom shop site. Japanese players buying the game from its E-Capcom shop could receive exclusive alternate color costume per each character for free.[29]
The American Collector's Edition was released on the same day as the game.[30][31]
Although the game's official release was February 16th, 2016, some shops sold Street Fighter V a few days early.[32]
After the release of Street Fighter V: Arcade Edition, a second book titled Street Fighter V Arcade Edition: A Visionary Book II was released.
Downloadable content
Edit
In addition to the DLC fighters, the game features a notable number of DLC packs. One of the game's DLC packs is the Capcom Pro Tour DLC Pack, which is based on the Capcom Pro Tour 2016; the pack features three new alternate costumes ("Capcom Cup Collection Costumes) for Chun-Li, Cammy and a third yet-to-be-announced character, a Capcom Pro Tour based stage ("Ring of Destiny"), two exclusive titles and new color schemes for all fighters. The amount of support this content gets will directly add money to the Capcom Pro Tour prize pool. The content is temporary however, and was eventually removed in November 2016.[33]
Classic costumes for some of the returning characters (with redesigns) as well as returning stages (and stages based on classic ones) are also included in the game.
Live-action miniseries
Edit
During the Capcom Cup 2015, a live-action miniseries from Machinima, Street Fighter: Resurrection, was announced.[34][35] It is made by the same team who is behind the live-action TV series Street Fighter: Assassin's Fist and its second season Street Fighter: World Warrior. The series first aired in March 15th, 2016 with four episodes.
Reception
Edit
Capcom was expecting the game to sell at least two million copies worldwide before the end of the company's fiscal year.[36] In Japan, Street Fighter V entered the chart at number four, with sales of 42,000 in the first week.[37] As of December 31, 2016, the game had shipped 1.5 million copies across the PS4 and PC platforms, digital downloads included, making it 500,000 copies short from Capcom's two million goal fiscal goal.[38]
Street Fighter V received overall positive reviews, the website Metacritic gave the PlayStation 4 version a score of 78/100 and the Microsoft Windows version 76/100. Famitsu awarded the game with a 10/8/8/9. The game was however critized for its initial lack of content and fighters upon release as well as its technical issues such as broken servers at launch and software bugs.
When asked about the lack of an arcade version (as in an arcade machine) of Street Fighter V, Yoshinori Ono cited Capcom's desire to go for crane and one-off games in the arcade business, [39] as well as the financial crisis regarding the arcade industry,[40] joystick compatibility and frame rate issues[41] as the main reasons. The updated Arcade Edition was released on arcades however.
Although Charlie goes by his original name "Nash" in all regions, including the English-speaking territories, it should be noted that he is called "Charlie" multiple times in his Character Story and called by his full name in A Shadow Falls in both the English and Japanese versions.
Although there are so far no official plans to include the Street Fighter EX fighters, all of them were given profiles in the Shadaloo Combat Research Institute character guide since September 2016 and onwards.
Merchandise
Edit
References
Edit
External Links
Edit
Capcom Fighters Network - official news and info site dedicated to Street Fighter V and the franchise in general (available on both Japanese and English)