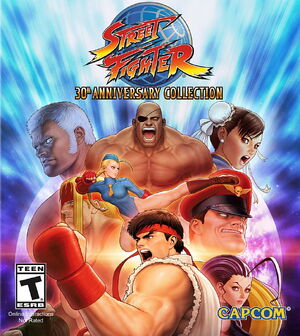 Street Fighter 30th Anniversary Collection is a bundle of twelve fighting games in Capcom's Street Fighter franchise. First announced at Capcom Cup at the 2017 PlayStation Experience event, it celebrates the series' 30th anniversary. It was released for the PlayStation 4, Xbox One, Nintendo Switch and Windows on 29 May 2018 in Europe and America, and it will be released later on October 25 in Japan.
List of games
[
]
The bundle contains the following games.
Gameplay
[
]
While playing a single-player mode in any of the twelve games, the player can use save states to save and resume at any time.[1][2] Four of the games (Turbo: Hyper Fighting, Super Turbo, Alpha 3, and 3rd Strike) support online multiplayer, including ranked matchmaking.[2] Online lobbies can support up to four players and a player can fight against a CPU opponent while waiting for online battles to be ready.[2] The Nintendo Switch version of the game includes an exclusive eight player tournament mode for Super Street Fighter II that can be played locally with four consoles.[3]
Features
[
]
Online Play - Available for Street Fighter II: Hyper Fighting, Super Street Fighter II: Turbo, Street Fighter Alpha 3, and Street Fighter III: 3rd Strike.[1] In addition to Ranked and Casual Matches, up to four players can join a lobby where they can play against the CPU while waiting for their next match. Each of these titles will have their own global leaderboard to ensure bragging rights can be proved.[1] Online play also features "rewind" technology that provides low-latency matches with the ability to adjust the player's own input latency via the in-game menu.
Museum - A collection of concept art, pitch documents, and "little-known facts" behind each game's release.[1]
Interactive Timeline - Allows the player to browse through the 30 years of the series' history and see how it has evolved.[1]
Character Bios - Provides the playable fighters' backgrounds, stories and personal traits, in addition to their sprites and animations in each title.[1]
Music Player - Provides several Street Fighter tracks.[1]
Development
[
]
Street Fighter 30th Anniversary Collection was developed by Digital Eclipse and published by Capcom.[4][5] To provide minimal latency in online play, the development team implemented "rewind" technology and allowed players to adjust their own input latency via an in-game menu.[2]
Capcom announced the collection in December 2017 at the finals of the Capcom Cup Street Fighter tournament.[5] The collection was released for Nintendo Switch, PlayStation 4, Windows, and Xbox One on 29 May 2018,[2][6] although it was delayed in Japan to address fan feedback.[5] A digital copy of Ultra Street Fighter IV was included with pre-orders of the PlayStation 4, Windows, and Xbox One versions of the collection.[6]
In Japan the compilation is known as Street Fighter 30th Anniversary Collection International. In addition to the international version of each game, it also features the Japanese versions.[7]
Reception
[
]
References
[
]
External Links
[
]