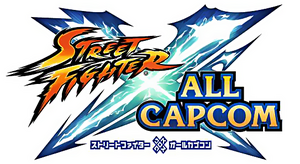 Street Fighter × All Capcom (ストリートファイター×オールカプコン?) is a RPG card game released for Japanese mobile phones which started out as Minna to Capcom All Stars, but was discontinued on April 11, 2013. It contains several Capcom characters. It is one of a number of Minna to series card games.
Gameplay
Edit
Referred to as a "Capcom Hero Training RPG", the game is the successor of the discontinued Minna to Capcom All Stars, a trading card RPG game where each side plays using a deck of character cards. There are three game modes: Street Fight (ストリートファイト) allows the player to go through various missions to strengthen their deck, fighting against enemies in various locations; Team Battle (チームバトル) is a 20 vs. 20 mode where two player teams try to defeat a powerful boss first to gain Support P, points which are added to the player's supporting franchise; and Arena Battle (闘技バトル) where players can fight in 10 vs. 10 battles to get a boost in Support P. The series which gathers the most support gets first place in the weekly Title Ranking.
Later updates to the game has seen the inclusion of more cards, an extra "SSR" rarity rank and new modes like the Arena (闘技).
Street Fight
Edit
In Street Fight mode, the player can level up and raise a card's stats through battles against strong boss characters. Each stage's background in this mode is based off locations from all represented games, as well as the weaker enemies encountered before the proper boss fight.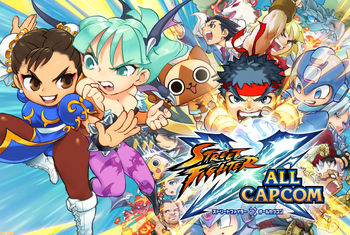 In "Capcom World", a place where all Capcom characters live, the Street Fighter cast held a tournament to decide Capcom's No. 1. At the finals between Ryu and Chun-Li, however, characters from other franchises decided they wanted to participate as well, and joined the battle. In order to organize the subsequent chaos, a "Capcom No.1 Finals Steering Committee" (カプコンNo.1決定戦 運営委員会) was hastily created to determine the No. 1 with the help of fans.
Franchises
Edit
The game includes more than 500 character cards from an initial set of 23 franchises spanning Capcom's 30+ years of history, with new series (marked with a "[*]" below) being added at later dates. Represented franchises, as seen in the official site, include the following:
External Links
Edit