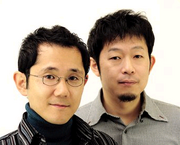 Shu Takumi (巧 舟 Takumi Shū) (born May 2, 1971) is a Japanese video game developer and director working at Capcom. He is best known as the creator of the Ace Attorney series of mystery adventure visual novel games, serving as director and scriptwriter for the early games. Shu Takumi is also the creator of Ghost Trick: Phantom Detective which continues with his trademark murder mystery style.
In his elementary school years, Shu Takumi was only into playing video games.[1] At the time when video games were played at game centers, he would sometimes go there to play Crazy Climber but otherwise was not allowed to be at those centers so he mostly played games on a personal computer.[1]
Shu Takumi's first experience with "a story" was the British children's book series Dr. Dolittle.[2] In addition to the stories having an immense influence on his writing in the future, he saw elements that came from classic detective fiction.[2] The realization of how fun it was to have a strange incident solved would led Takumi to mystery fiction books.[2]
In 1981 Shu Takumi got the computer system Cassette Vision for his birthday but two years later he wanted to have the-then newly released Family Computer (Nintendo Entertainment System) but his parents didn't buy one because he already had the Cassette Vision. Takumi would than stop playing video games until collage.[1]
Takumi enjoyed reading many mystery fiction books, like the works of Edogawa Rampo and Maurice LeBlanc's Arsène Lupin.[3] When Takumi was in elementary school he wanted to become someone like Fujiko Fujio, and he often watched the Lupin III anime series.[4] He had someone buy him the Arsène Lupin series published by Poplar Publishing because he thought that it was a novelization of the Lupin III series.[4] Afterwards, Takumi started reading Sherlock Holmes (who he first discovered in Poplar Publishing's translation of Maurice LeBlanc's Arsène Lupin Contre Herlock Sholmès[5]) and got hooked on Ellery Queen and Dickson Carr,[4] he also took a liking to Chesterton's Father Brown series, the television show Columbo and the Perry Mason series of courtroom drama novels by Gardner.[4]
Shu Takumi started playing video games again during collage and it was around this time he discovered the 1980 adventure game Mystery House, which he has cited as his first game experience that left a real impression on him.[6][1]
When looking for a job. Takumi wanted to find one that had something to do with mystery fiction, so he mainly tried with publishers but since he was not well prepared for the job-hunting he got rejected by all of them. It was around that time that a college friend, Tanka Shuntarō (who is nowadays a well-known game director at Sega),[1] was working on a proposal for a game, which Takumi needed for his job hunting activities.[3] Takumi bought a word processor and started writing a game proposal,[6] Shuntarō recommended Capcom as a potential publisher,[3] the company had just opened a second hiring round so Takumi decided to send his proposal there.[6] Because Takumi was good at magic tricks,[7] he performed one of them at the job interview. The impressed interviewer wanted to know how he did it so Takumi revealed a little bit of the secret because he wanted the job, but he also like to believe the trick was not the only reason he got hired.[7]
Shu Takumi joined Capcom in 1994 along with Hideki Kamiya. His first game was Gakkou no Kowai Uwasa: Hanako-san ga Kita!! (学校のコワイうわさ 花子さんがきた!!), a 1995 video game adaptation of an anime of the same name.[8] He was designated as a planner, and because the director was busy with multiple projects, Takumi had some freedom in his role. In the years that followed, Takumi came up with an idea for a detective game, though nothing came out of it at first.[9] Takumi felt useless when he first joined Capcom,[10] feeling he was bad at reading the atmosphere and sometimes not notice when people got mad at him.,[10]
Takumi was later picked up by Shinji Mikami to work on Dino Crisis. However, in early 1997, the Dino Crisis team was temporarily redirected to help work on the ill-fated original version of Resident Evil 2. Takumi was then made director of the Dino Crisis project before being demoted to planner, being responsible for the first half of the game. He was then made director of Dino Crisis 2, and was able to maintain his position throughout the game's development.
After the release of Dino Crisis 2, Takumi was given an opportunity to make whatever game he wanted with a small team of seven. He conceived of a detective-themed visual novel that would allow the player to input his or her deductions in some way. He thought of two ways to achieve this, one being a "joint reasoning" system in which the player would correct the deductions of a detective, and a court system in which the player, as a lawyer, would point out contradictions between witness testimony and evidence. His team began work on Phoenix Wright: Ace Attorney, a realization of the latter concept. The reason for a courtroom as the main setting was because Takumi felt certain there wasn't a video game about courts or defense attorneys yet.[4][6]
Phoenix Wright: Ace Attorney was originally intended for the Game Boy Color, but after being shown a demo of Mega Man Battle Network on a prototype Game Boy Advance, development moved enthusiastically to the then-upcoming handheld. Despite being such a small project with only two programmers and two graphical asset developers, with Takumi taking on the roles of planner, director and scenario writer, the team managed to finish the game in ten months. The producer liked the game so much that he requested that it be made into a trilogy. Thus, Justice For All and Trials and Tribulations were produced in 2002 and 2004, respectively, followed by Nintendo DS ports of the three games, which were released internationally. Shu Takumi originally provided the Japanese voice for Phoenix Wright throughout the first three games.
The 2007 game Apollo Justice: Ace Attorney was the last entry in the main series made under Takumi, who went on to create the standalone title Ghost Trick: Phantom Detective. After the release of the Nintendo 3DS, Takumi came back as scenario writer for the crossover game Professor Layton vs. Phoenix Wright: Ace Attorney. Takumi was not involved in the development of the fifth Ace Attorney main game, Phoenix Wright: Ace Attorney: Dual Destinies, due to having been busy working on said crossover game at the time. He is currently working on a spinoff sub-series of the Ace Attorney games taking place in Victorian London and incorporating the "joint reasoning" system that he had conceived all those years before, starting with Dai Gyakuten Saiban: Naruhodō Ryūnosuke no Bōken, which was released in 2015. He also worked on the development of the sequel Dai Gyakuten Saiban 2: Naruhodō Ryūnosuke no Kakugo. Takumi also acted as a script supervisor for the 2016 Ace Attorney anime series.[11]
Gakkou no Kowai Uwasa: Hanako-san ga Kita!! (1995)
Resident Evil 2 (PSX, PC and Dreamcast Versions) (1998/1999) -- Planning Cooperate (Special Thanks)
Dino Crisis (PSX and PC Versions) (1999/2000) -- Main Planner (Planning), Event Director (Planning)
Resident Evil 2 (N64 Version) (1999) -- Planning Cooperate (Special Thanks) (Original Staff)
Loving Guitar's Serenade -- Composition & Arrangement
Lamiroir ~The Landscape Painter in Sound -- Composition & Arrangement
Gyakuten Saiban Special Courtroom 2008 Orchestra Concert ~Gyakuten Meets Orchestra~ Commemorative Souvenir
Loving Guitar's Serenade -- Composition, Lyrics
Oedo Warrior Tonosaman's Song -- Lyrics
Takumi was in an art club in middle school, a guitar club in high school and a magic club in university.[3]
Community content is available under
CC-BY-SA
unless otherwise noted.