Sengoku BASARA 2 is the Japan-only sequel to Devil Kings and the second game in the Sengoku BASARA series of action hack and slash games. Although the main characters of Masamune Date and Yukimura Sanada were still prominently featured, the focus moved to two new characters, Keiji Maeda and Kojūrō Katakura.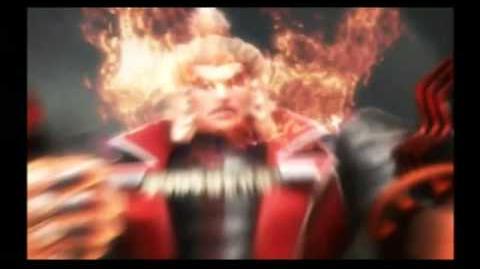 Like the original, artwork was handled by Makoto Tsuchibayashi. An updated edition named Sengoku BASARA 2: Heroes was released on November 29, 2007, again only in Japan.
The four-volume manga series made was translated by UDON Entertainment in 2012 into a two-volume series called Sengoku BASARA: Samurai Legends for release in North America. The manga acts as a prequel to the next game in the series, Sengoku BASARA: Samurai Heroes.
In the first game, new weapons were only obtainable from treasure boxes. Now, they are unlocked for purchase in the BASARA shop after attaining a particular level or meeting certain conditions with the character. Beating Unification Mode with a character will unlock that character's alternate costume.
Sengoku BASARA 2: Heroes (Sengoku BASARA 2: Eiyuu Gaiden) is the Japan-only revision of Sengoku BASARA 2. All non-playable characters from Sengoku BASARA 2 (including Ujimasa) are now playable. Matsunaga Hisahide, a new non-playable character, makes his debut. There are also new alternate costumes available, as well as items, stage levels, weapons and equipment.
Kojūrō, Oichi and Nagamasa now have Story Modes, complete with animated Prologue and Epilogue movies.
Motochika, Keiji, Masamune, Yukimura and Kotaro have Side Story (Gaiden) Modes, complete with animated Prologue and Epilogue movies.
Community content is available under
CC-BY-SA
unless otherwise noted.