Sengoku BASARA (sometimes shortened to SenBasa) is a series of 3D hack & slash action games. It is loosely based on real events of the titular Sengoku period in the history of feudal Japan, retelling the stories with supernatural elements. The series has been noted for its strong resemblance to Koei's Warriors series, particularly Dynasty Warriors and Samurai Warriors, in terms of concept and gameplay genre.
Sengoku BASARA is very popular in Japan with the video games getting good reviews and sales, winning numerous awards, becoming a cultural phenomenon, and gaining a huge fanbase.[1] Almost all of the games have been released only in Japan. The series has spawned a bigger media franchise based on the games, including four anime shows, an anime movie, a magazine series, a trading card game, and numerous stage plays, manga, and drama CDs. Sengoku BASARA serves as one of Capcom's flagship series in Japan[2] and it have also gained some popularity in other Asian countries such as Hong Kong, Indonesia, Malaysia, Singapore, South Korea, and Taiwan. Despite Sengoku BASARA being considered obscure outside of Asia, it does maintain a small following in some countries such as Australia, France, Germany, Italy, Russia, the United Kingdom, and the United States.
The franchise's producer is Hiroyuki Kobayashi (who has been the producer for every console and handheld game in the series except for Sengoku BASARA Sanada Yukimura-Den, and is the creator of the franchise) and its director is Makoto Yamamoto (who has been the director for every console and handheld game in the series except for Sengoku BASARA Sanada Yukimura-Den). As of December 31, 2019, the game series has sold 4 million units worldwide.[3]
Gameplay
[
]

This section is currently incomplete.
You can help Capcom Database by expanding it.
Common Enemies
[
]
Foot Soldiers - the staple of every enemy army. They are weak and not much of a threat thanks to their low life and slow rate of attack.
Archers and Riflemen - Although two different enemies, Archers and Riflemen are functionally the same. They both attack from afar, and their attacks knock the player back a bit.
Bombers - these obnoxious enemies have giant bombs strapped to their backs. They rush up in a suicide run in an attempt to injure the player in the resulting explosion. Some bombers can fly down from above and attack.
Calvary - these mounted horsemen attack by charging surprisingly fast from a distance.
Field Commanders - any named enemy leaders on the battlefield: Captains, Gatekeepers, Guards or Lieutenants. Many of them are able to block attacks, but their demise results in a change in the gameplay (such as gaining access to the rest of the stage where before it had been blocked).
Mace Wielders - slow giant-like men carrying oversized maces upon their shoulders. When their maces come crashing down, everything in the wide area of effect is knocked to the ground and suffers damage.
Ninjas - they move and attack very quickly, sometimes disappearing from view. They also have a high rate of blocking and counterattacking. Some Ninjas blow poison to disorient the player, rendering him/her momentarily incapable of movement.
Pole Wielders - large enemies carrying enormous poles which they swing in circular motions. Players should give them a wide berth.
Rock Throwers - similar to Mace Wielders, these large men rip gigantic boulders from the ground and hurl them at the player.
Shield Soldiers - spearmen crouching behind wooden shields. Several attacks must be made before the shields shatter and the soldiers can be harmed.
Chest Carriers - these evasive enemies have chests strapped to their backs. They do not attack. If successfully destroyed, the chests yield items such as refills for the player's life gauge or basara gauge, money, experience points, etc. They always run when approached, making them sometimes hard to reach.
Trumpeters - if the player fears being outnumbered, the trumpeters should be the first target. Trumpeters have the ability to summon more enemies in great numbers by blowing their horns. Like chest carriers, trumpeters do not attack. They always flee when approached, making them sometimes difficult to reach.
Swordsmen - these enemies are arguably the most dangerous in the series. Not only can they block and counterattack, but they have more health than the average Foot Soldier. Their attacks are faster and stronger, and they are capable of multiple attack combos.
List of games
[
]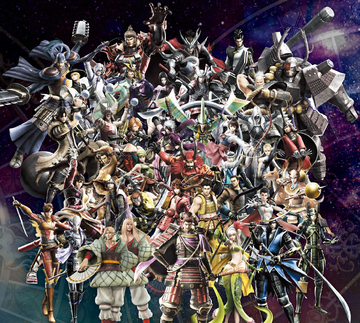 Other
[
]
Sengoku Basara: Battle Party - (2019) - (Japan only)
Media and merchandise
[
]
The Sengoku BASARA franchise has had several different forms of media.
Notably, an anime series, just titled Sengoku BASARA, started broadcasting in Japan on April 2, 2009.[4] The series' sequel anime, titled Sengoku BASARA II, began broadcast in Japan on July 11, 2010. Furthermore, the series' movie finale titled Sengoku BASARA -The Last Party- was released in Japanese theaters on June 4, 2011.[5][6] All three anime adaptations were licensed and published in the United States in 2012 by Funimation under the titles Sengoku BASARA Samurai Kings, Sengoku BASARA Samurai Kings 2, and Sengoku BASARA Samurai Kings -The Last Party-. An anime based on Sengoku BASARA 3 titled Sengoku BASARA Judge End, began broadcast in Japan on July 6, 2014, and was licensed and published in the United States in 2016 by Funimation under the title Sengoku BASARA End of Judgement. Another anime titled Gakuen BASARA, based on the Gakuen BASARA manga series, started broadcasting in Japan on October 4, 2018. So far, Gakuen BASARA hasn't received an official English localization as of 2019.
Several manga adaptations of the series have been serialized in manga magazines, and later released in tankōbon format in Japan. A manga adaptation of the second game was created by Yak Haibara. The four volume series, Sengoku BASARA 2, was published in Japan from 2007-2009. It was published in the United States from 2012-2013 by UDON under the title Sengoku BASARA Samurai Legends.[7] The title change was due to the Sengoku BASARA 2 video game not being released in the United States.[8] Kairi Shimotsuki created the first manga adaptation of the series, based on the first game, which was titled Sengoku BASARA Ranse Ranbu, and was released as a three volume series in 2006.
Radio shows have been produced with the first series being released on four CD volumes. A stage play based on Sengoku BASARA 3 was announced on July 17, 2011 in Japan and ran later in 2011 from October 14 to October 30, and was later released on DVD in Japan on February 23, 2012. The stage play received "universal acclaim" in Japan. This stage play is considered to be the beginning of the Sengoku BASARA stage play series' huge success and popularity in Japan with later stage plays in the series gaining even more success and popularity. There has been a total of 17 stage plays in the series as of 2019 with Capcom doing 1-2 per year.
In 2012, the Takarazuka Revue announced that Flower Troupe would be performing a Sengoku BASARA musical. Ranju Tomu, Ranno Hana starred, and Asumi Rio and Nozomi Futo also featured in the adaptation, which played at the Tokyu Theater Orb, from 06/15 - 07/01 in 2013. The staging of the musical was much more lavish than that of the stage plays with a lot more special effects, and less action and stunts. Reviews were "generally favorable". As of 2019, this is the first and only Sengoku BASARA musical to have been performed.
A live-action television drama titled Sengoku BASARA Moonlight Party began broadcasting in Japan on July 12, 2012, on the Mainichi Broadcasting System.[9]
In August 2015, Capcom produced a collaborative stage play with Sengoku BASARA and Devil May Cry titled Sengoku BASARA VS Devil May Cry. In the play, Dante, Lady, Trish, and Vergil come across some mysterious historical ruins while chasing after a demon, and are sent back in time to Japan's Warring States (Sengoku) period. There, the group meets Date Masamune, Sanada Yukimura, and other characters from the Sengoku BASARA franchise. The play ran at the AiiA 2.5 Theater Tokyo for 18 performances from August 20–30. Masanari Ujigawa directed and composed the stage play with Hideaki Itsuno and Izaki Matsuno collaborating on the scenario. Kazushi Miyakoda and Tetsuya Yamaura produced the play with Hiroyuki Kobayashi and Makoto Yamamoto as supervisors.[10]
A large range of merchandise has been created for the series, including books, CD soundtracks, drama CDs, radio CDs, trading cards, and figures.
See also
[
]
Gallery
[
]
Covers
[
]
Merchandise
[
]
Wallpaper
[
]
References
[
]
External links
[
]
Raindrops and Daydreams - Fan blog which mainly focus on the Sengoku BASARA franchise but also covers Japanese pop culture in general.