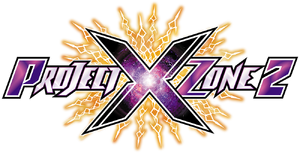 Project × Zone 2 (プロジェクト クロスゾーン2:ブレイブニューワールド, Purojekuto Kurosu Zōn 2: Bureibu Nyū Wārudo?, Pronounced Project Cross Zone 2 Brave New World) is a tactical role-playing game developed by Bandai Namco Games. Released exclusively for the Nintendo 3DS, the game is a sequel to Project × Zone and part of Namco's Cross series of crossover games. Although the game is primarily a crossover between Capcom, Namco and Sega as with the previous installment, characters from Nintendo's Fire Emblem: Awakening and Xenoblade Chronicles also make an appearance.[1] The game was released on November 12, 2015 in Japan, February 16, 2016 in North America and released February 19, 2016 in Europe.
Gameplay
[
]
Like its predecessor, Project × Zone 2 is a tactical role-playing game in which players strategically maneuver their characters across a field to battle with the enemy. Characters are paired up into "Pair Units", with "Solo Units" consisting of a single character able to assist them when linked together. In battle, players use well-timed attacks and combos to do as much damage to the opponent as possible before their turn ends.
Story
[
]

This section is currently incomplete.
You can help Capcom Database by expanding it.
The story is a continuation of Namco × Capcom's plot, and focus on the conflict between the secret agency Shinra and the chaos-spreading Ouma organization. The story begins with Reiji Arisu and Xiaomu traveling to Shibuya to investigate a set of mysterious "Golden Chains" that have suddenly appeared, and it soon becomes apparent that Ouma is involved when Saya and Sheath (from Ouma's American branch) make their appearance. As Reiji and Xiaomu, helped by Dr. Chizuru Urashima and her dimension-hopping vehicle the Dragonturtle Mk.1, travel across worlds and meet allies both old and new, it is revealed that Ouma's plan involves the gathering of the fragments of "99", the final boss from Namco × Capcom, and the mysterious "101 Embryo Plan".
Characters
[
]
The game features pairs of characters from all three participating companies (Capcom, Namco and Sega), as well as solo characters who can provide assist attacks during combat. Making an appearance for the first time are Nintendo characters; Chrom and Lucina from Fire Emblem Awakening, and Fiora[2] and Metal Face from Xenoblade Chronicles. The game has also another new original character, Chizuru Urashima (voiced by Mariko Kouda).[3]
Pair Units
[
]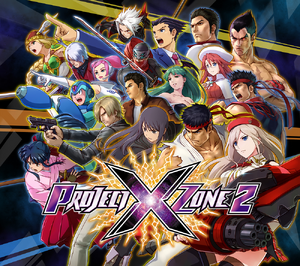 Solo Units
[
]
Rival Units
[
]
The following is a list of non-playable characters that appear as major enemies throughout the game.
Cameos
[
]
Some Solo Units and Rival Units summon other characters as part of their attacks.
Capcom
[
]
Captain Commando summons Michelle Heart from Legendary Wings, Colonel Issue from Exed Exes, and Cyber Blue from Battle Circuit.
Phoenix Wright and Maya Fey summon Steel Samurai and Pink Princess from their game series.
Baby Bonnie Hood summons the Mobilesuits Alpha and Beta from Side Arms: Hyper Dyne when she performs her Cool Hunting attack as opposed to the hunters she summons in the Darkstalkers series. Previously the Side Arms mechs were summoned by the characters from Forgotten Worlds in Namco x Capcom and Devilotte in the original Project X Zone.
Namco
[
]
Sega
[
]
Event-only Characters
[
]
Sylphie from Forgotten Worlds (voiced by Rie Tanaka) and Miyuki-chan from Ordyne (voiced by Fumiko Orikasa) appear as shopkeepers.
Fire Emblem character Tiki, in her Fire Emblem: Awakening attire, appears in front of a huge tree.
Cardinal Garigliano from Resonance of Fate.
Tarosuke and Otohime from Shadow Land.
Development
[
]
On April 8, 2015, Japanese game magazine Famitsu launched a teaser website with a countdown that would expire in five days, revealing a secret project from Bandai Namco Entertainment.[4] Before its expiration, Project × Zone 2 was announced early to attendees of Bandai Namco's "Level Up" press event in Milan, Italy on April 10, which was prematurely posted on Italian news website E-duesse before being retracted.[5]
The game was officially revealed to the public three days later. It was stated in an interview that the game would address the criticisms of its predecessor (such as the story) and that there would be some "surprise" announcements, which later turned out to be the inclusion of Nintendo characters.[6] The game was originally going to have a simultaneous worldwide release, but the North American and European releases were later delayed to early 2016.[7] Unlike the previous game, the western versions features no altered content from the Japanese version and are in multiple languages.[8]
Former Capcom member Hideki Kamiya stated that he was approached about having Bayonetta (the titular protagonist of Platinum Games' action game series) included in Project × Zone 2, to which he refused as he wanted Bayonetta and Devil May Cry protagonist Dante to meet on his own terms. He later stated that he regretted this decision, due to realizing how the fans would have loved the two interacting, and that he would approve of Bayonetta's inclusion for a third game in the series.[9]
In an February 2016 interview, Namco's Kensuke Tsukanaka stated that he would like to continue the Project × Zone series.[10]
Reception
[
]
Project X Zone 2 received mixed to positive reviews, receiving a score of 73/100 on Metacritic,[11] with critics praising the game's cast of characters and improvements to issues present in the first game, but criticizing the game's easy difficulty and the fact that many assets were reused from the first game.[11] The game received a 32/40 from Famitsu.[citation needed] Hardcore Gamer gave the game a 4/5 saying "Project X Zone 2 is a funny, charming and amusing title. It sets out to entertain video game fans of all stripes and allows the player to jump from world to world to get a taste of other titles they may have been missing. Just based on the built-in "Crosspedia" encyclopedia database, the stack of games that I really want to try out has grown (Resonance of Fate, in particular). It's not challenging, but it was never meant to be. The gameplay is simply the vehicle to deliver the true focus of this title: dumb fun. Players who don't need everything to bristle with a dark malevolence will find a great time in this one."[12]
Sales
[
]
The game sold 37,000 copies in Japan on its first week, selling through 60% of its shipment.[citation needed] The game made the #2 spot in the UK 3DS sales charts.[13]
Gallery
[
]

This section is currently incomplete.
You can help Capcom Database by expanding it.
References
[
]
External Links
[
]