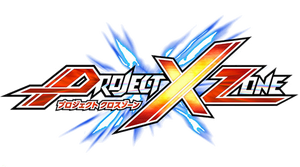 Project × Zone is a crossover tactical role-playing game developed and released by Bandai Namco Games exclusively for the Nintendo 3DS. The game, featuring characters from Capcom, Namco and Sega, is part of Namco's Cross series of crossover games and a continuation of their PlayStation 2 crossover game Namco x Capcom released year 2005 only in Japan. Project × Zone was released on October 11, 2012 in Japan, June 25, 2013 in North America and July 5, 2013 in Europe. The game received mixed to positive reviews; praise went towards the cast, combat system, and presentation, but criticism was directed at its repetitive gameplay and confusing storyline.
A sequel was released for Japan in 2015 and released overseas in 2016.
Gameplay
[
]
The stage takes place in grid-based locations from the game's crossover titles. Each friendly unit is made up of two characters (referred as "Pair Unit"), though a third character (referred as "Solo Unit") can be added for once-per-battle assistance. Unlike Namco x Capcom, units can move freely within their range on the field map, without penalty for accessing treasure chests or destructible objects prior to attacking.
The battle system is called "Cross Active Battle System", where pressing the A button in combination with the Circle Pad performs up to five basic attack combos. Additional gameplay elements include Support Attack, which allows the player to call in a nearby ally for assistance, and Cross Hit, which freezes the target in place during simultaneous attacks from multiple units. Also, the player can trigger Critical Hits by connecting their next attack just before the target hits the ground after the first. As the player's units deal damage, the player's Cross Power (XP) gauge fills up and can be used for special attacks and defensive moves on the map. Damage done via Cross Hits can fill this gauge up to 150%.
Project X Zone has a total of fifteen save game slots included in the game, which can be used for recording a save game file during intermissions with a quick save file and a soft reset command.
Story
[
]

This section is currently incomplete.
You can help Capcom Database by expanding it.
Characters
[
]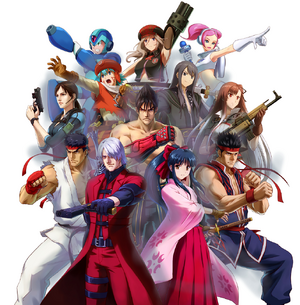 Over 90 characters (allies and enemies, not counting event-only characters) are included in the game.[1] The overseas versions feature the same character roster as the original Japanese version.[2]
Pair Units
[
]
List of the playable main units at the player's command.
Solo Units
[
]
List of Solo Units which can be attached to Pair Units and act as playable assist characters.
Rival Units
[
]
List of the non-playable characters that appear as enemies throughout the game.
Cameos
[
]
Some Solo Units summon other characters as part of their attacks.
Development
[
]
Bandai Namco came up with the idea of a "dream crossover" and brought on Capcom and Sega.[3] The game was first revealed in a teaser by Bandai Namco on the official website until it was revealed in the May 2012 issue of Famitsu.[4]
The initial creation of the characters were done in 3D character models before they were converted to be SD pixel art.[5] Notable attacks used by the characters had to be done in 2D space in order to preserve its source material origin.[5]
Regarding the game's name, they originally considered selecting something with all three companies' names, but this would end up being too long. Namco member and the game's producer Kensuke Tsukanaka mentioned Namco x Capcom, a previous crossover strategy RPG involving two of the parties, that if the new game was a sequel to that, it might have been possible to use the company names in the game, but because it's a new title, and it's a "project that realizes a dream crossover, they decided on the Project X Zone name.[3]
The game features two theme songs, with the opening song titled "Wing Wanderer" and the ending titled "GALAXY", which were both performed by Yoko Takahashi. The opening movie was created by the new animation studio Trigger, which was founded by former Gainax employees Hiroyuki Imaishi and others.[6]
On September 22, 2012, Katsuhiro Harada, producer of the Tekken series, had revealed on Twitter: "I proposed localization of Project X Zone." He added that the company had "not decided yet, but it will be realized if I continue proposing."[7] Namco Bandai Games announced on January 21, 2013 that the game would be officially released in North America, Europe and Australasia during summer 2013.[8] The English versions of the game retain the Japanese voices, like Otomedius Excellent, though the vocals for the opening theme music were removed for legal reasons. Some music tracks were removed or replaced for the same reasons.[9][10]
On May 1, 2016, the game was removed from the North American and European eShops.[11]
Reception
[
]
The game sold more than 85,539 units in its first week in Japan.[12] In the West, the game has sold over ten times more than what Bandai Namco had expected.[13] The game was among the 20 best games sold in the United Kingdom after it made its debut.[14][15] In the United States, the game has been among the best selling games sold for the 3DS.[16] The game has sold over 400,000 copies worldwide, according to Bandai Namco.[17]
Project X Zone has received mixed to positive reviews from western critics. The game currently has a score of 70 out of 100 on Metacritic.[18] IGN's Scott Thompson gave Project X Zone a score of 8 out of 10, saying, "Project X Zone is often funny and consistently frantic – two traits not necessarily associated with tactical RPGs. Its story is confusing and the chapters slavishly follow the same repetitive formula, but the superb battle system makes repetition not just tolerable, but enjoyable."[19] Game Revolution gave it a 3.5 out of 5, saying, "Despite the lack of depth and the repetition of combat, Project X Zone follows through as a tactical, humorous, preposterous romp through the best hits of video games. Even if you find the combat system strange, the streak of character cameos and the ridiculous number of hits that rack up with every battle will make any hardcore fan smile with appreciation. And if you're anything like me, that's hard to do."[20] On a more negative note, GamesRadar gave Project X Zone a 2 out of 5, saying, "With the wealth of RPGs, and even great SRPGs, that have arrived on the 3DS in the last several months, it would almost be unconscionable not to recommend one of those games instead of Project X Zone. Fun combat and screaming Tekken characters can only take you so far."[21]
Kotaku's Mike Fahey included Project X Zone in his top ten games of 2013.[22] In 2014, Kotaku also included the game among "The 12 Best Games on the 3DS".[23] That same year WatchMojo.com ranked the game fifth in their "Top 10 Crossover Video Games".[24]
Gallery
[
]
Box Art
[
]
References
[
]
External Links
[
]