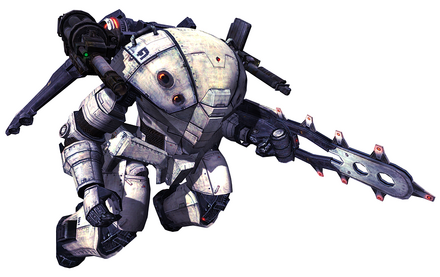 The PTX-40A is a robot from the Lost Planet series of third-person shooter games. It is part of the series' robotic suits called Vital Suits (VSs).
Profile
[
]
The PTX-40A is the customized prototype VS used by Gale Holden, identical to the PTX-140 in every function. The 40A version is painted white and has a second pair of "eyes" on its body. It's codename could be a reference to Ivan Solotov, Yuri's father an acquaintance of Gale. It has all the abilities of the PTX-140, but it can dash and hover for a longer period of time and uses less T-ENG as well.
Abilities and weapons
[
]
To be added....
Other appearances
[
]
The PTX-40A appeared in Tatsunoko vs. Capcom as a playable character. It is one of the two characters, the other one being Tatsunoko's Gold Lightan, who fights without a partner because of its size. PTX-40A also appeared in Street Fighter × All Capcom.
Gallery
[
]