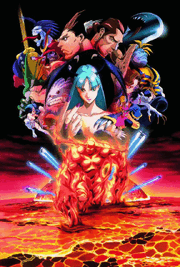 Night Warriors: Darkstalkers Revenge is an anime OVA series based on the Darkstalkers series. It was released in 1997 with 4 volumes. Each volume ran around 45 minutes and featured some of the Darkstalkers cast. The series was released on VHS, DVD and UMD for the Playstation Portable. On DVD, VIZ Video released the first two episodes as "Alpha" with the last two released as "Omega". It has recently been licensed by Discotek Media for a DVD rerelease.
Plot (Summary)
Edit
In a world different from our own, the old folk lore of vampires, werewolves and other terrifying creatures are a reality. In this world, humans are the natural enemies of these creatures, known as the Darkstalkers.
"Return of the Darkstalkers"
"Blood of the Darkstalkers, Power of the Darkstalkers"
"Pyron Descending"
"For Whom They Fight"
Characters
Edit
Main Cast
Cameos
External Link
Edit
Community content is available under
CC-BY-SA
unless otherwise noted.