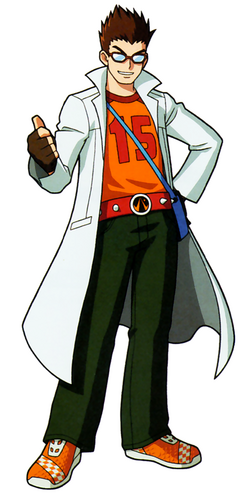 Mr. Famous, known as Eguchi Meijin (江口名人?) in Japan, is a character from the Mega Man Battle Network series. He is a scientist who works with Lan's father, Yuichiro Hikari. He wears glasses, a lab coat, and a numbered shirt.
He is the creator of several NetNavis, and uses four in the games:
GateMan.EXE (MMBN2 and MMBCC)
Punk.EXE (MMBN3)
KendoMan.EXE (MMBN4)
GridMan.EXE (MMBN5)
Except for Punk, who is based on the classic Mega Man boss, his other Navis were created by fans in a contest sponsored by Capcom.
Mr. Famous doesn't have much storyline significance, and is usually an optional boss. He sometimes gives useful hints.
Community content is available under
CC-BY-SA
unless otherwise noted.