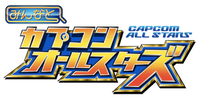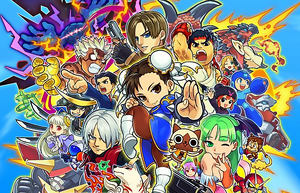 Minna to Capcom All Stars (みんなとカプコンオールスターズ?) was a social card battle RPG game released by Capcom only in Japan on October 25, 2012. Originally part of their Minna to series, this free-to-play, pay-per-item Flash game featured several Capcom characters in a card gameplay style and was available for smartphones (iOS and Android) and feature phones (DoCoMo, au and SoftBank). The game was discontinued on April 11, 2013[1] and succeeded by Street Fighter × All Capcom.
Capcom heroes live in a different dimension called "Capcom World" (カプコンワールド?). This world was peaceful and quiet for a long time, but one day an unprecedented crisis happened. The mysterious energy life creature "Chaos Energy" suddenly appeared in Capcom World and spreads destruction where it passes. It transformed the Capcom World into a chaotic world where order was lost. In this state, Capcom World will eventually be destroyed. In order to overcome this serious situation, Capcom World's defense agency, CPS (Capcom Savers, カプコンセイバーズ) sent a rescue signal across the space-time. Many people receive the rescue signal from their mobile devices, starting the story...
Community content is available under
CC-BY-SA
unless otherwise noted.