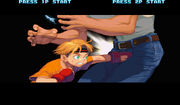 Mel Masters is a minor NPC Street Fighter character. He is the son of Ken and Eliza and nephew of Julia (Guile's wife), who first appears "sparring" with his father in Ken's ending in New Generation and is also seen in Ken's ending in Third Strike. Eliza is pregnant with him in Street Fighter IV and he is seen as a newborn baby in Ken's Super Street Fighter IV ending.
Mel is three years of age by the SFIII series and he wishes to follow in his father's footsteps.
Gallery
Community content is available under
CC-BY-SA
unless otherwise noted.