Mega Man X4 (ロックマンX4, Rockman X4), produced by Keiji Inafune, is the sixth game in the Mega Man X series. This game was originally released on July 31st, 1997 for the Sega Saturn in North America. Both the Sega Saturn and PlayStation versions were soon released simultaneously on August 1st, 1997 in Japan. The PC version was released in January 1st, 1998, and runs in operating systems after and including Windows 95. It was part of the Mega Man X Collection for the Nintendo GameCube and PlayStation 2, and the PlayStation version was also released in Singapore's AMK Hub on 2007. Artwork was done by Haruki Suetsugu.

This section is currently incomplete.
You can help Capcom Database by expanding it.
Characters
Edit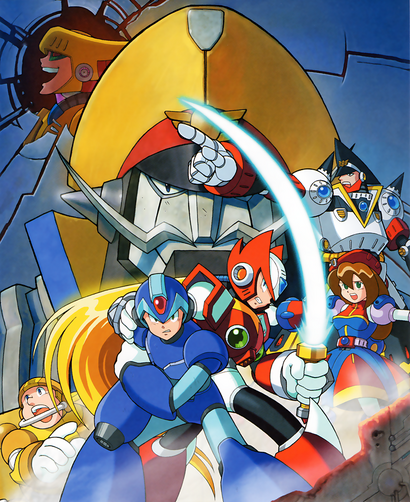 Following the third defeat of Sigma, Cain Labs issues an initiative to create a supplementary military force to complement the Maverick Hunters. This force, called the Repliforce, is a strict military regime led by General and his second-in-command, Colonel.
Six months following the inception of the group, Cain Labs finds its methods to be ineffective, questionable, and potentially dangerous in the defense against Mavericks. To make matters worse, General has been meeting behind in secret with a mysterious figure who insinuates that they are a threat to the jurisdiction of reploids alike, and plots the demise of the Maverick Hunters. Following an attack on the Sky Lagoon by the Maverick Egregion, General publicly announces that the Repliforce will attain independence from the humans and reploids, with his justification being that the Repliforce has been misjudged as a group of Mavericks.
Producer: Keiji Inafune, Bamboo
Planner: Ohko, Mitsuru Endo, Hiroyuki Yamato
Programmer: Hisashi Kuramoto, Hiroki Bandoh, Syuichiro Chiboshi, Tomohiro Akizuki, Yuuji Hagiyama, Akihiro Kashimoto, Hideaki Motozuka
Object Design: Ikki Tazaki, Tsuyoshi Fujisawa, Nwo Hattori, Nottsu Man, Katsumi Toda, Obi Tomomi, Hayato Kaji, Nobuyoshi Mihara
Scroll Design: Natsue Ueda, Shimoyan, Mayumi Yoshioka, J R, Kita‑One, Kentaroh Ono
Title Design: Ukabin
Illustrations: Manashi, Hyper Mino, Sensei, Toyozo, Hideki
Music: Toshihiko Horiyama
Sound Effect: More Rich
Voice Actor (Japanese): Kentarou Ito, Ryotaro Okiayu, Ryuzaburoh Ohtomo, Jin Yamanoi, Yūko Mizutani, Yasunori Matsumoto, Mugihito, Issei Futamata, Kazuo Oka, Mari Maruta, Osamu Hosoi, Takashi Nagasako, Toranori Yoshikawa, Hiroyuki Yoshino, Takeshi Aono
Voice Actor (Overseas): Ruth Shiraishi, Wayne Doster, Mark Hagan, Matthew Meersbergen, John O'Corner, Jermy Felton, Michelle Gazepis, Charlie Fontana, Issei Futamata, Kazuo Oka, Mari Maruta, Osamu Hosoi, Takashi Nagasako

Opening Theme - "Makenai Ai ga Kitto aru" 
Ending Theme - "One More Chance"
Words by: Goroh Matsui
Music by: Tetsuji Hayashi
Arranged by: Takahiro Tashiro
Song by: Yukie Nakama
Opening Remastered Special[1]
Animation Staff
Xebec: Nobuyoshi Habara, Shinji Takagi, Shinichi Yamaoka, Hideyuki Motohashi, Meijyu Maeda, Rieko Nakai, Masahiro Satoh, Kanami Sekiguchi, Minoru Ueta, Ryota Niino, Miho Asano, Masakazu Kawazoe, Yuriko Ikehara, Yūko Kami, Nobuo Horii, Youko Ito, Shingo Adachi, Ryuji Fujita, Masaru Echigoya, Kaori Takahashi, Ayumi Tsukamoto, Mitsuko Sekimoto, Hiromi Aoki, Shizuko Kawabata, Kazuyo Ikeda, Natsuyo Ban, Masaki Kimura, Hisaaki Sakabe
 
K Production
Keison Production
Koni Production
Marix
Maki Production
Trans Arts: Yukio Sugiyama, Hiroki Sekito, Haruhiko Tsumura, Saori Kibe, Hiroaki Matsuzawa, Tomohiro Baba, Chisato Asai, Takahiro Wada
 
Production AI: Yoshimi Umino, Hachidai Takayama, Fumie Kawai, Fuyuki Sakanoue, Megumi Ogawa, Yukiko Ogawa, Nobuko Akutsu, Tomoko Takamura, Motoko Iwahashi, Saori Ishibiki
 
Special Thanks: Koji Nakajima, Takuya Shiraiwa, Erik Suzuki, Jun Takahashi, Takayuki Umezu, Ayumi Terada, Shinichi Sato, Tetsuya Tabuchi, Yoshihiro Sudo, Takeshi Kawano, Norikazu Fujikawa

Bandai: Katsuhiro Izumi, Takeshi Inoue
...and All Capcom Staff
General Producer: Noritaka Funamizu
Executive Producer: Yoshiki Okamoto
Presented by: Capcom
Merchandise
Edit
References
Edit
External Links
Edit
Community content is available under
CC-BY-SA
unless otherwise noted.