Mega Man IV (Rockman World IV in Japan), released in 1993, is the fourth Game Boy game in the classic Mega Man series of action platformer games and the fourth game in the Rockman World series. Tokuro Fujiwara returned as producer.
Gameplay
[
]

This section is currently incomplete.
You can help Capcom Database by expanding it.
Characters
[
]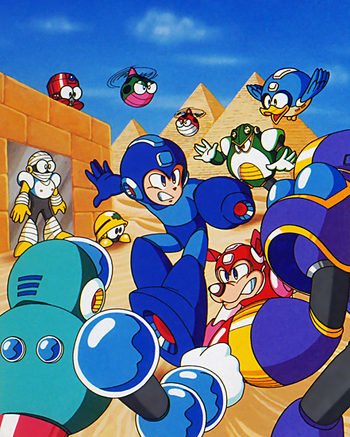 Story
[
]
After his aquatic defeat, Dr. Wily has gone into hiding yet again. At the first National Robot Master expo, he decides to make a public appearance and activates some of the robots in the display cases. Luckily, Mega Man is at the expo at the time, but Wily can't find a way to harm him. Wily escapes, and now Mega Man has a new quest: find all the Robot Masters and deactivate them before they can do the harm they did in the past, while dealing with the ever-mysterious Ballade.
Credits
[
]
As with the rest of the classic series titles released for Game Boy, the game lacks a credits sequence for the game's staff and instead offers "ideal" demos for the game's 9 main boss battles.
For this title, all of the sound duties (music composition, music arrangement, sound effects, porting and driving/programming) [with the exception of one composition written by a "Byte-san"] were handled by one man: freelance sound designer Kouji Murata. Though he was no longer contracted through Minakuchi Engineering, he was requested by his former employer to continue working on the series. All of this is stated on the respective entry on Murata's official worklist.
Murata would later work on the series' console entry.
Gallery
[
]
Box art and advertisement
[
]
External Links
[
]