Mega Man III (Rockman World III in Japan), produced by Tokuro Fujiwara, is a Game Boy game in the classic Mega Man classic series of action platformer games. It is the third game in the Rockman World games and was originally released in 1992 for the Game Boy.
Gameplay
[
]

This section is currently incomplete.
You can help Capcom Database by expanding it.
Characters
[
]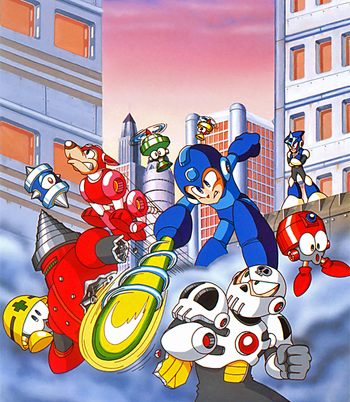 Story
[
]
After the last defeat, Dr. Wily goes into hiding and isn't heard from for many months. That is, until the government discovers a top secret underwater mining operation set up by the dastardly doc. The government calls Mega Man to stop him before he can get what he needs---energy from the earth's magma so he can create his newest battle robot---and use it for his evil purposes. Meanwhile, Dr. Wily has created a tough robot named Punk, who has a single purpose: destroy Mega Man at all costs.
Credits
[
]
As with the rest of the classic Mega Man series titles released for Game Boy, the game lacks a credits sequence for the game's staff and instead offers a "cast roll" for the game's characters.
For this title, all of the sound duties (music composition, music arrangement, sound effects, porting and driving/programming) were handled by one man: freelance sound designer Kouji Murata. He was contracted through Minakuchi Engineering (following his work with said company on the Game Boy edition of Bionic Commando) and would later return for the next entry in the series. All of this is stated on the respective entry(ies) on Murata's official worklist, where he also recounts being praised for the success of the game's soundtrack in light of the series' previous entry.
Gallery
[
]
Box Art
[
]
Merchandise and Advertisement
[
]
External Links
[
]