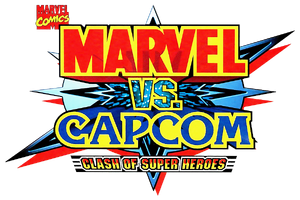 Marvel vs. Capcom: Clash of Super Heroes (マーヴル VS. カプコン クラッシュ オブ スーパーヒーローズ, Māvuru vs. Kapukon Kurasshu Obu Sūpā Hīrōzu?) is a crossover fighting game developed and published by Capcom. It is the third installment in the Marvel vs. Capcom series, which features characters from Capcom's video game franchises and comic book series published by Marvel Comics. The game debuted in Japanese and North American arcades in 1998. It was ported to the Dreamcast in 1999 and the PlayStation in 2000. The game was re-released in 2012 for the PlayStation 3 and Xbox 360 as part of the Marvel vs. Capcom Origins collection.
Players select a team of characters from the Marvel and Capcom universes to engage in combat and attempt to knock out their opponents. In contrast to the series previous entry, Marvel Super Heroes vs. Street Fighter, the game features characters from numerous Capcom franchises, such as Mega Man and Strider, rather than strictly Street Fighter characters. While the gameplay is largely identical to its predecessor, Clash of Super Heroes features two distinct changes: the removal of the traditional character assist system and the introduction of the "Variable Cross" attack.
The Dreamcast version of the game was praised for its visuals, gameplay, and translation of the original arcade experience. Due to the PlayStation's limited RAM capacity, Capcom removed tag team battles in an attempt to preserve the game's speed and graphical integrity. Consequently, the PlayStation port received positive reviews, just not as much as the Dreamcast version. A sequel, Marvel vs. Capcom 2: New Age of Heroes, was released in 2000.
Gameplay
Marvel vs. Capcom: Clash of Super Heroes utilizes similar tag team-based game mechanics to its predecessor.[1] Before starting each match, the player selects a team of two fighters to compete in one-on-one combat.[1] The player is free to swap between their characters at any point during battle.[1] While one character fights, their teammate resting off-screen slowly regenerates their life gauge.[1] The first team to exhaust their opponent's vitality wins the match; however, if the timer runs out before either team is knocked out, the player with the most remaining health is declared the winner.[2]
Clash of Super Heroes features two significant gameplay changes from Marvel Super Heroes vs. Street Fighter.[3] The game removes the "Variable Assist" feature used in the previous installment, which allows the player to summon their offscreen teammate to perform a special attack, in favor of the "Guest Character/Special Partner" system.[3][2] While similar in function, guest characters are randomly allocated to each player at the beginning of a match.[4] They are also limited to a few uses per round.[5] Clash of Super Heroes introduces a new technique called the "Variable Cross", also known as a "Duo Team Attack".[3][5] When executing a Variable Cross, the player can attack their opponent with both characters simultaneously for a limited time.[3] In addition, the player is given unlimited use of the "Hyper Combo Gauge", a colored meter towards the bottom of the screen which allows the player to perform several special techniques, allowing them to pull off multiple Hyper Combo moves, which deliver heavy damage to the opponent, in quick succession.[1][2]
Modes
The Dreamcast version of Marvel vs. Capcom: Clash of Super Heroes includes five game modes: Arcade, Versus, Training, Survival, and Cross Fever.[6] In Arcade Mode, the player must defeat several A.I.-controlled teams to reach the final boss character, Onslaught, a character from the X-Men comic book series.[2][7] Upon completion, the player views a cinematic ending unique to each playable fighter.[6] In Versus Mode, two players can choose their characters, handicap level, and stages before competing against each other in battle locally.[2][6] The player can practice moves and combos in Training Mode, where they can also adjust certain settings, such as AI difficulty, and the number of bars available in the Hyper Combo Gauge.[2][6] In Survival Mode, the player fights through waves of enemies with a time limit; in addition, the player's life gauge is carried over through each round.[4][6] Cross Fever Mode allows four players to simultaneously compete in a two-on-two match.[4][6] In place of Cross Fever, the PlayStation version features an exclusive mode called Cross Over[8]; it is the only mode in the PlayStation port that permits tag team gameplay, which was removed due to the console's limited RAM capacity.[9]
Characters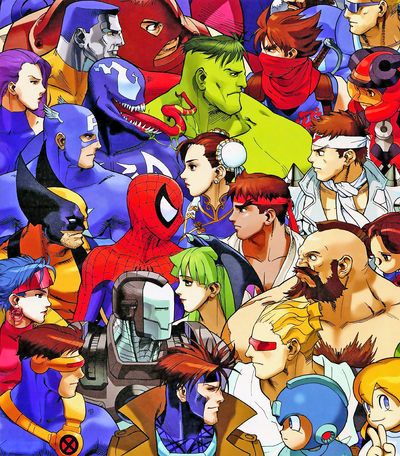 The game features a roster of 15 playable fighters.[10] The Capcom side uses characters from its other video game franchises, such as Darkstalkers, Mega Man, and Strider,[1] unlike the previous title which limited itself to characters from the Street Fighter series. The game features 20 unplayable guest characters, drawn from the Marvel and Capcom universes, which are used for support during battle.[1][6]
The roster also contains six secret characters, which are accessed by inputting codes on the character select screen.[11][12] Most of the secret characters are palette swaps of existing fighters with different moveset properties, such as Shadow Lady, a modified version of Chun-Li.[13][14] The sole exception to this trend is Roll from the Mega Man series, who has unique sprites, but shares the same moves as Mega Man.[12]
Secret Playable Characters (Capcom)
Roll
The only secret character to have her own set of unique sprites. Roll has the same movelist as Mega Man, but her buster shot is slower because of the added animation of equipping a Buster weapon, and her moves are in general weaker. She also gains an unique move known as the "Exploding Bouquet". Roll is short enough to be able to duck from most attacks, but she tends to hover longer in the air due to her dress and runs slowly due to her short legs.
Shadow Lady
A cyborg palette swap of Chun-Li, similar in style to Shadow from Marvel Super Heroes vs. Street Fighter. Unlike Shadow, she gains a number of unique cyborg-based moves and Hyper Combos, but retains Shadow's increase in speed. She's the result of being captured and experimented on by Shadaloo, mimicking Shadow's origins in the previous game.
Lilith-Mode Morrigan
A Morrigan with Lilith's palette and most of her attacks, which according to her ending is the result of a body switch between them that happened after a collision. She has an unique projectile (Soul Flash) and two Hyper Combos (Brilliant Shower, Splendor Love) replacing Soul Fist, Soul Eraser and Silhouette Blade, and lacks Morrigan's Eternal Slumber. Nicknamed "Morrilith" by fans.
Secret Playable Characters (Marvel)
MSH-Performance Hulk
An orange palette swap of Hulk created by Onslaught to spread chaos. This version of Hulk is faster than the original and has different properties on some of his basic attacks, but lacks Super Armor. The meteor in his Gamma Crush Hyper Combo also lacks fire. Nicknamed "Orange Hulk" by fans.
High-Speed Venom
An orange palette swap of Venom created by Onslaught to spread chaos. This version of Venom is really fast, leaving afterimages after each action, but has the lowest health of all characters, dying much faster as a result. He also has a new move named "Venom Crush" instead of "Venom Bite". Nicknamed "Red Venom" or "Hyper Venom" by fans, and is speculated to be inspired by a similar Marvel character, "Carnage."
Hyper Armor War Machine
A gold palette swap of War Machine created by Onslaught to spread chaos. This version of War Machine has Hyper Armor allowing him to not being stunned by hits of any type at the expense of being unable to block. As a result of his heavy armor, he walks really slow and his jumps are lower than the original, and he loses the ability to use Flight. His Shoulder Cannon and Proton Cannon moves also use missiles instead of lasers. Nicknamed "Gold War Machine" by fans.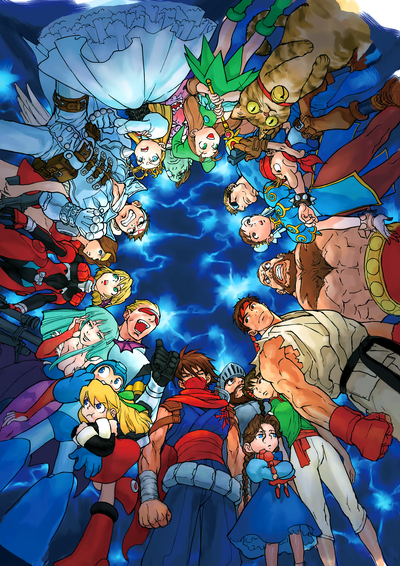 Non-playable Characters
Cameos
Beat, Rush and Eddie
In one special attack involving either Mega Man or Roll, Beat appears, taking the form of a small plane. Rush appears following Mega Man around, and is also part of an Hyper Combo for him and Roll where he turns into a drill tank. Eddie is summoned by the two in order to switch weapons, and the three appear in the Hyper Mega Man/Roll Hyper Combo, merging with Mega Man/Roll to form their giant bodies.
Dr. Light
Dr. Light appears in the victory animations from Mega Man and Roll, appearing from an hologram projector in Rush's back. He's also featured in Roll's ending.
Dr. Wily and his creations
The Mega Man-themed stage "Dr. Wily's Military Base" features the mad doctor walking around and screaming with a megaphone in the background. The stage also includes some of his robots such as the Mad Grinder, Mettall Potton from Mega Man 6 and Dark Man 1 from Mega Man 5 (Arcade only).
M. Bison
M. Bison appears behind Shadow Lady in the pre-fight introduction for her secret battle in Arcade Mode, sending her against the player. He also appears in Chun-Li's ending, where he tries to capture her but is stopped by Shadow; and Shadow Lady's ending, where he fatally injures Jin Saotome, forcing her and Shadow to transform him into a shadow version to save him.
Lord Raptor
Lord Raptor makes a cameo appearance playing music in the "Live House in the Dark Realm" stage, which is set in the Darkstalkers' Makai realm.
Sakura
Sakura and her best friend Kei appear in the background of the "Honda's Bathhouse" stage, in the girl's section revealed by striking at the right side of the screen. She's cheering on the fight from a bath tub.
Sean
Sean appears along with Ken Masters in Ryu's pre-fight introduction, as well as his ending.
Donovan
Randomly appears, knocked out, as part of the objects used by Anita as projectiles in her assist attack.
Development and release
Marvel vs. Capcom: Clash of Super Heroes was originally developed for the CP System II arcade system board.[7] A direct Dreamcast port was revealed by the Computer Entertainment Software Association at the 1998 Tokyo Game Show.[6][15] The Dreamcast version added the new game mode, Cross Fever, which permitted four-player gameplay.[4] The game later received a PlayStation port.[16] However, the console's RAM limitations required the developer to remove certain features, most notably the game's tag team element; thus, most game modes were restricted to two-character battles, instead of four.[17] This reduced the player's secondary character to an assist role, similar to guest characters.[8] To overcome the limitations, the PlayStation version had to implement a new gameplay mode called Cross Over. Cross Over Mode allows tag team play by forcing the players to fight with identical teams.[8][9] For example, if Player 1 chooses Spider-Man and Player 2 chooses Ryu, then Ryu and Spider-Man would automatically be selected as Player 1 and Player 2's secondary characters, respectively.[18] The game also added an art gallery, where players could view game art and ending animations.[19] Many frames of animation were also omitted as a result of insufficient RAM, particularly in larger character sprites.[17]
Marvel vs. Capcom: Clash of Super Heroes debuted in Japanese and North American arcades in 1998. The game was released on the Dreamcast on March 25, 1999 in Japan, and October 7, 1999 in North America.[4] A European version for the Dreamcast, published by Virgin Interactive, was released on June 23, 2000.[20][4] The game was ported to the PlayStation on November 11, 1999 in Japan, where it was renamed Marvel vs. Capcom: Clash of Super Heroes EX Edition.[19][21] North America and Europe received the PlayStation version later in January 2000.[9][22]
A high-definition version of the game was released, alongside Marvel Super Heroes, as part of the Marvel vs. Capcom Origins collection.[23] Built using the arcade ROM, the compilation sought to maintain the original's gameplay experience, while adding new features such as online multiplayer, challenges, and replay saving.[24] It was released through the PlayStation Network on September 25, 2012 in North America and October 10, 2012 in Europe.[25][26] The Xbox Live Arcade version was released worldwide on September 26, 2012.[25] Following the apparent expiration of Capcom's licensing contracts with Marvel Comics in 2013, Marvel vs. Capcom Origins was removed from online stores in December 2014.[27][28]
Merchandise
Toy Biz produced a line of action figures to help promote the game, which consisted of four two-packs, each of which featured one Marvel character and one Capcom character. The two-packs consisted of Captain America and Morrigan, War Machine and Mega Man, Spider-Man and Strider Hiryu and Venom and Captain Commando.[29]
Reception
Marvel vs. Capcom: Clash of Super Heroes received "favorable" reviews on both Dreamcast and PlayStation according to the review aggregation website GameRankings.[30][31]
Upon its release on the Dreamcast, Marvel vs. Capcom: Clash of Super Heroes received positive reviews for its animation quality and fast gameplay.[32] Game Informer lauded the game for its "seamless animation, in-your-face effects, and lightning-quick gameplay".[32] In addition, the magazine praised the Dreamcast version for being a "flawless" translation of the original arcade version. Jeff Gerstmann of GameSpot also praised the visuals and combat, stating that it was "everything you'd expect from an over-the-top, ultra-flashy fighter".[1] Game Revolution, on the other hand, felt that Clash of Super Heroes lacked depth.[13] The site criticized the Dreamcast port for not adding any significantly new features from the arcade version.[13] In Japan, Famitsu gave it a score of 33 out of 40.[33]
The PlayStation port received a bit more mixed reviews than its Dreamcast counterpart. Gerstmann heavily faulted the game for its removal of tag team battles.[17] He claimed that while it had "the same moves as the original game...the shell surrounding those moves [was] completely different".[17] Douglass C. Perry of IGN labeled the PlayStation version as "an average game", praising its gameplay and lasting appeal, while criticizing its selection of fighting styles and soundtrack.[9] GamePro praised the developer for making the decision to remove features in order to keep the speed and graphical integrity of the game without overloading the system; however, they still recommended the Dreamcast version over it.[19]
Trivia
This is the second game in the series that doesn't feature any playable female characters from the Marvel side (all Marvel females who do appear are assist characters), the first being Marvel Super Heroes vs. Street Fighter.
The secret Capcom characters (Roll, Shadow Lady, and Lilith-Mode Morrigan) are the only secret characters to have their own endings.

They are also the only female secret characters to have real endings programmed. The male secret characters have a generic "congratulations" message.
The home versions of the game had an additional two palettes for each character with the exception of Onslaught, who only has one set of colors.
The final boss Onslaught (Professor X's psyche manifested) can be selected once the player completes the game once with any team of characters in the Playstation version. Unlocked on Dreamcast version after unlocking all secret characters. Onslaught is located below Wolverine in the Playstation version. In the Dreamcast version the player must select "Onslaught Mode", which allows the player to use only Onslaught, and all fights take place in Onslaught's stage.
One "Secret File" image from the arcade flyer depicts an imaginary action figure box set featuring Venom and Captain Commando. Another imagines the game as a "fictitious" Rockman V. There did exist a Rockman World 5, known outside of Japan as Mega Man V. This game existed four years before the release of Marvel vs. Capcom. Capcom characters appear as robots in a super deformed style (barring Mega Man) and Marvel characters only slightly resemble their original versions.
The gameplay has no provisions of being stunned or dizzied unlike the previous two games. As a result, characters introduced here have no dizzy animations, evident in the Playstation EX edition.
Credits
Arcade Version [Staff Credit]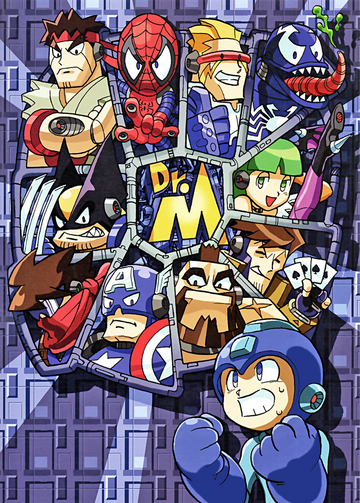 Planner: Atsushi Tomita, SGR Matumoto, Nakano Tau! Masahiro
Original Art Work: Akiman, Shoei, Sakomizu
Object Designer: Hiroaki Minobe, Akemi・Kurihira, Fuji=Kazu, Sagata, G・Kamina, Miwa♥Sakaguchi, Kohichi Kikutani, Masanori・Kondo, Hiroshi Yoshioka, Shinya Miyamoto, Takep, Toshihiro Suzuki, Jon Narancha, Yamancha, Naony, Yuugen, Kanako♥Takami, Ino, Eripyon, Kimo Kimo
Scroll Designer: Konomi, Iwai, Sawatch, M.Nakagawa, M.Kitamura, Nissui, Kanno, Himago, Kazu.T, Oonishi, Takapon, Kenichi Yamahashi, Stamp Rally
Music Composed & Arranged: Yuko K. Takehara, Masato Kohda
Sound Director: Ryoji Yamamoto
Recording Director: Susan Hart
Recording Engineer: Paul Shubat, David Stinson
Second Engineer: Dave Hatt, Rick Pacholko
Programmer: Motsu, Eternal Sailor, Kaw, You!, Silver Kadontz, Bakunetsu Hirokado
Voice Actor - Capcom Heroes: Tomomi Fube, Kaoru Fujino, Yayoi Jinguji, Yuko Miyamura, Toshiyuki Morikawa, Takashi Nagasako, Wataru Takagi, Yuji Ueda (Arts Vision)
Voice Actor - Marvel Heroes: Alyson Court, Andrew Jackson, Cal Dodd, Maurice Wint, Patrick Chilvers, Rod Wilson, Tony Daniels, Wayne Ward
Narrator: Sally Cahill
Producer: Kenji Kataoka
General Producer: Noritaka Funamizu
Executive Producer: Yoshiki Okamoto
Special Thanks to: Mr. Dana Moreshead, Ms. Lisa Leatherman, Adviser Akimoto, Takuya Shiraiwa, Erik Suzuki, Miki Takano, Yoshinori Ono, Yoshino Aoki, Kinu Nishimura, Shogakukan Production Co., Ltd., All Capcom Staff, and You
Presented by: Capcom

Dreamcast Version [Consumer Staff]
Director & Main Programmer: Sennin–K
Programmer: Hiropyon, TM2O, Ragi, Tenk☼
Sound: Michanya♥
Special Thanks to: Mika, Tadashi, →↓↘♥Dai♥Lv99, Rie, Initial.T, ↑Yoshiaki↓, Naoaki
Sound Adviser: tkjn
Additional Screen Design: Katagy
Project Manager: S–Hama
Producer: Hyper Mickey
Presented by: Capcom
PlayStation Version [Staff Credit]
Planner: Atsushi Tomita, SGR Matumoto, Nakano Tau! Masahiro
Original Art Work: Akiman, Shoei, Sakomizu
Object Designer: Hiroaki Minobe, Akemi・Kurihira, Fuji=Kazu, Sagata, G・Kamina, Miwa♥Sakaguchi, Kohichi Kikutani, Masanori・Kondo, Hiroshi Yoshioka, Shinya Miyamoto, Takep, Toshihiro Suzuki, Jon Narancha, Yamancha, Naony, Yuugen, Kanako♥Takami, Ino, Eripyon, Kimo Kimo
Scroll Designer: Konomi, Iwai, Sawatch, M.Nakagawa, M.Kitamura, Nissui, Kanno, Himago, Kazu.T, Oonishi, Takapon, Kenichi Yamahashi, Stamp Rally
Music Composed & Arranged: Yuko K. Takehara, Masato Kohda
Sound Director: Ryoji Yamamoto
Recording Director: Susan Hart
Recording Engineer: Paul Shubat, David Stinson
Second Engineer: Dave Hatt, Rick Pacholko
Programmer: Motsu, Eternal Sailor, Kaw, You!, Silver Kadontz, Bakunetsu Hirokado
Voice Actor - Capcom Heroes: Tomomi Fube, Kaoru Fujino, Yayoi Jinguji, Yuko Miyamura, Toshiyuki Morikawa, Takashi Nagasako, Wataru Takagi, Yuji Ueda (Arts Vision)
Voice Actor - Marvel Heroes: Alyson Court, Andrew Jackson, Cal Dodd, Maurice Wint, Patrick Chilvers, Rod Wilson, Tony Daniels, Wayne Ward
Narrator: Sally Cahill
Producer: Kenji Kataoka
General Producer: Noritaka Funamizu
Consumer Staff
 
Object Designer: Hideaki Katagiri
Scroll Designer: Ryutaro's Mama, Hase, Uchimura
Planner: Kimihito Yoshino
Programmer: Etekichi Saruyama, Hideki Yatomi, Kengo・T, Soutarou Arakawa, Tahei Nakagawa, Takashi Nishii, Yoshinobu Yasuhara
Producer: Hyper Mickey
Special Thanks to: S–Hama, Akio Watanabe

Executive Producer: Yoshiki Okamoto
Special Thanks to: Mr. Dana Moreshead, Ms. Lisa Leatherman, Adviser Akimoto, Takuya Shiraiwa, Erik Suzuki, Miki Takano, Yoshinori Ono, Yoshino Aoki, Kinu Nishimura, Shogakukan Production Co., Ltd., All Capcom Staff, and You
Presented by: Capcom
Gallery
Characters
Box Art
Merchandise
Advertisements
References
External Links