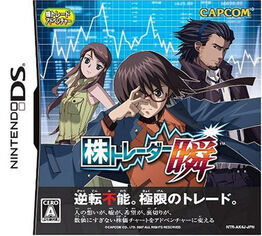 Kabu Trader Shun (株トレーダー瞬, Kabu Torēdā Shun?, literally "Stock Trader Shun") is an adventure game, developed and published by Capcom, which was released in Japan on June 7, 2007. The gameplay focus on trading equity securities. The game was directed by Ikuo Ando, with Tatsuya Kitabayashi serving as producer, and Ippo Yamada and Takuma Sato serving as composers.
The gameplay is split into two parts: adventure and trading. Adventure mode, which is similar to the investigation section of the Ace Attorney series, has the protagonist Shun travel around town, advancing the story. Trading mode consists of Shun battling against rival traders, earning a set amount of money, or trading with an AI partner. Shun can purchase or gain Trading Arts to increase his skills in this mode.
Set in Japan, the player assumes the role of a young stock trader named Shun Aiba. Shun's father was a trader who went bankrupt and disappeared five years earlier. At the game's opening, Shun is suddenly summoned by his father's former trading partner, Toru Narasaki, who wishes to teach him the tricks of the trade. Shun is joined by Hanako Kirikagura, Toru's pupil and the daughter of a family of entrepreneurs.
External Links
Edit
Community content is available under
CC-BY-SA
unless otherwise noted.