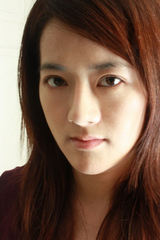 Jo Chen, born July 4 in Taipei, Taiwan, is a freelance illustrator, doujinshi and comic book artist who later immigrated to the United States late 1994.
As a child, she read many comics and was influenced by their art and storytelling. Her sister encouraged her to eventually take up drawing as a profession and they later attended the Fu-Hsing Trade and Art School in Taiwan. Her drawing process uses traditional pencil sketches for each piece before coloring them in both Photoshop and Painter.
She is the author of her own comic book series, The Other Side of the Mirror, which was fully translated into English by Tokyo Pop. Her most current personal work is The Spectre King.
As part of her freelance work for Capcom, she has done many of the famous "power foil" variant covers of the first Street Fighter comic books produced by UDON. Some of these covers were also used in merchandising (at least in prints and control pads). She also did the cover art for the company's Darkstalkers Tribute collection.
Her work for other companies include cover art for issues of The Runaways and Buffy the Vampire Slayer comics, video games such as the Fable series and various magazines.
External Links
Edit
Community content is available under
CC-BY-SA
unless otherwise noted.