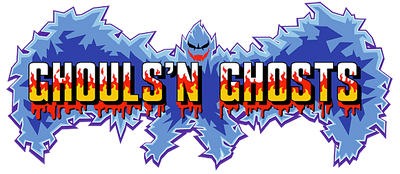 Ghouls 'n Ghosts (Daimakaimura in Japan), released in 1988, is the second game in the Ghosts 'n Goblins series and was directed by the series' creator, Tokuro Fujiwara. It is included in Capcom Classics Collection, for the PlayStation 2 and Xbox, along with its predecessor.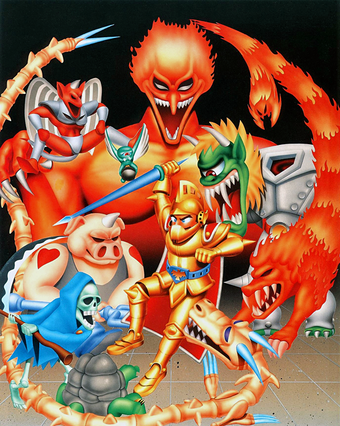 The gameplay for Ghouls 'n Ghosts is eerily similar to that of the original Ghosts 'n Goblins game. The player controls the knight Arthur, who must advance through a series of spooky levels and defeat a number of undead and demonic creatures in his quest to restore souls stolen by Lucifer, including the soul of his bride, Princess Guinevere. Along the way, Arthur can pick up a variety of weapons and armor to help him in his quest.
While the core gameplay remains the same as its predecessor, there are a few extra abilities granted to Arthur, aside from the abilities to jump and fire weapons. By holding up on the joystick while firing a weapon, Arthur will throw the weapon straight into the air, which is very handy for attacking airborne enemies such as Red Arremer. Similarly, when jumping, Arthur can throw his weapon downwards by holding down on the joystick.
By jumping in certain spots, Arthur can cause a treasure chest to erupt from the ground. By firing his weapon at the chest, Arthur may find new weapons, an evil magician that can change him into an elderly man or a helpless duck, or the gold armor. The gold armor allows Arthur to charge up his weapon to release a powerful magical attack. Each weapon has its own magic attack.
Ghouls 'n Ghosts, like many other games during this era of gaming, credited its staff in its default Score Ranking Table, which is as follows:
Merchandise and advertisements
[
edit
|
edit source
]
Community content is available under
CC-BY-SA
unless otherwise noted.