Ghosts 'n Goblins (Makaimura in Japan) is a run and gun platform arcade game developed and published by Capcom in 1985. It is the first game in the Ghosts 'n Goblins series. The game marks the first appearance of Arthur, a valiant knight hell-bent on saving Princess Guinevere. He battles his way through a graveyard, demon-infested Camelot, the Great Abyss and beyond. The game is also included in Capcom Classics Collection for the PlayStation 2 and Xbox.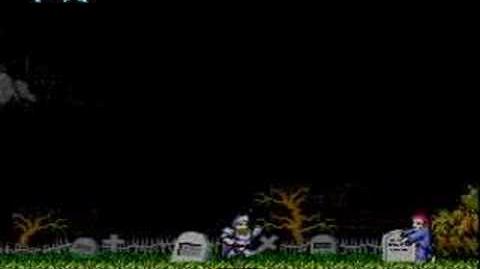 Like many of the games that followed it, it was directed by Tokuro Fujiwara.
Gameplay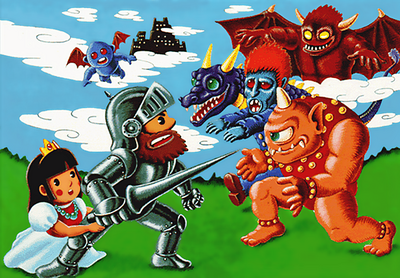 Ghosts 'n Goblins is a run and gun platform game where the player must defeat zombies, demons and other undead creatures in order to rescue the princess. Along the way the player can pick up new weapons, bonuses and extra suits of armor that can help in this task. The game is often considered very difficult by arcade standards, and is commonly regarded as one of the most difficult games released for the NES.
The player starts out with three lives, and is awarded an extra life when the player reaches 20,000 and 70,000 points. A further life is awarded at every 70,000 points after that. Two hits from an enemy attack will result in a life being lost. After the first hit, Arthur is reduced to his boxer shorts. A second hit turns him into a skeleton. At the start of each level, Arthur is dressed in full armor whether or not he had armor at the end of the previous level. At certain points in the game, Arthur can suffer instant death whether he is suited in his armor or not.
If the player loses a life, he is returned to the start of the level, or the halfway point if he has managed to get that far. Furthermore, each life can only last a certain length of time (generally around three minutes), the clock being reset at the start of a level. If the clock does run out, the player instantly loses that life.
Characters
Main
Enemies
Bosses
Trivia
Credits
NES Version
Planning: Hasse and Fuji
Music: Hal and Wood
Design: Black and Hasse
Program: Kazzo
Presented by: Capcom
GBC Version
Programming: Mark Fitt
Additional: Alex Amsel
Producer: Troy Sheets
Music: Allister Brimble
Art: Richard Whittall
Special Thanks: Freya Shephard
Capcom: Jim Wallace, Bert Schroeder, Mark Rogers
Testers: Russell Young, Gene Sprague
Gallery
Character artwork

Box art
Merchandise and advertisement
External links