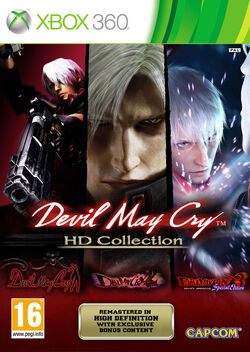 Devil May Cry: HD Collection is a compilation of 3D hack & slash action games published by Capcom. It features high-definition (HD) ports of the first three games in the Devil May Cry franchise, Devil May Cry, Devil May Cry 2 and Devil May Cry 3: Dante's Awakening. It was officially announced by Capcom in October, 2011 and was first released in April 2012 for the PlayStation 3 and later re-released in March 2018 for the PlayStation 4, Xbox One and PC.
Description
[
]
Overall, the HD Collection consists of straight ports of its component titles, with the graphics system upgraded to high-definition. Although the games does not use the MT Framework engine from Devil May Cry 4 and lacks any new lighting effects, during gameplay the screen is set by default to widescreen and 32-bit resolutions; however, the screen is still set to the 4:3 aspect ratio for menus. In addition, character models have a new skinning effect to reduce blur. Loading screens have also been replaced.
As a seventh-gen game, the HD Collection includes gamer awards such as achievements or trophies for completing tasks throughout each game. However, both the awards and the save function are disabled on the Devil May Cry 3: Special Edition port so long as Cheat Mode is active. New concept arts were also made available to be unlocked, as well as a jukebox mode to allow the player to listen to select tracks from all three games.
External link
[
]