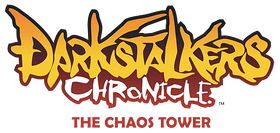 Darkstalkers Chronicle: The Chaos Tower is a compilation of the Darkstalkers fighting games released in 2004. It is a PlayStation Portable port of the Japan-only Sega Dreamcast title Vampire Chronicle for Matching Service. Character art was done by Arnold Tsang.
The Chaos Tower features characters from all prior games, the movesets, play styles and soundtracks from every game in the series, and it also allows players to challenge each other over the Internet.
It also feature one new stage, "Chaos Tower". A new "Tower" mode was also featured in single player mode. The player has to go to the top of the tower (100th Floor. Pyron, level 8, 4 health bar) where artwork can be unlocked from all of the previous Darkstalkers games.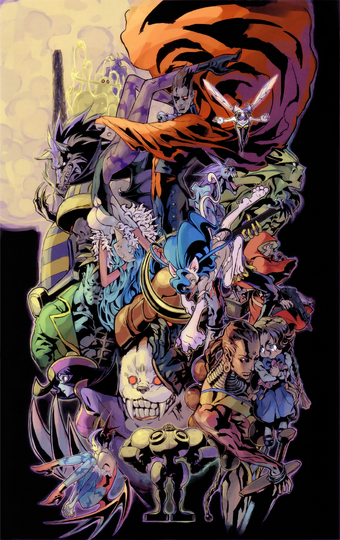 Most soundtracks from the original games are not listed or used in the game, or requires certain conditions to play. As it is based on Vampire Chronicles for Matching Service, all the BGMs are also monoaural.
Dark Talbain is removed due to the fact that Jon Talbain's Night Warriors powers can be selected. Still, he is present in the game and can be selected by hacking.
The Japanese and American box logo is similar but the European version is very different than the original style.
Program Design: Hideki Tada, Atsushi Manobe, Takahiro Yamamoto, Kaoru Mizoguchi, Masanori Kumakiri, Youhei Okai, Ryusuke Watanabe, Masakatsu Yanagi
Scroll Design: Hideaki Katagiri, Shoji Hamada
Sound: Chihiro Arisaka
Opening Movie: Yoshimi Zaima, Yukiko Sasaki
Localization: David Crislip, Ben Judd
Title Logo Design: Shoei Okano
Main Illustrator: Kinu Nishimura
Package Design: Miduho Toyonaga
Instruction Card Design: Miduho Toyonaga
Marketing: Yuji Itoh, Chihiro Nakamoto
Promotion: Kaori Tsukuda, Asuka Hayashi, Hironori Ojima
Publicity: Takayoshi Terada
Product Management Team: Kunio Funahara, Norio Tanaka
Test Players: Yng・J・Matsubara, Madhouse304, Code-K. S, Kiyomatsu@Teacher
Special Thanks: Keiji Kubori, Setsuo Yamamoto, Hiroaki Kondo, Atsuko Fujitani, Masako Honma, Yumiko Uchida, Yoshihiro Kura, Takahito Ikeda, Toshio Kou, Minako Murakami, Tetsuya Takagi, Publicity Illustration by ARN ©UDON Entertainment Corp.
Director: Yuki Furukawa
Producer: Minae Matsukawa
Executive Producer: Tatsuya Minami
Special Thanks (continued): and Capcom All Staff
Presented by: Capcom
Community content is available under
CC-BY-SA
unless otherwise noted.