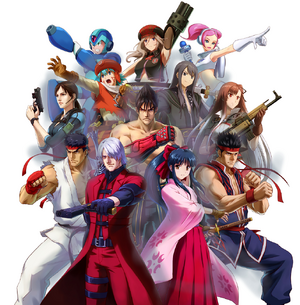 The X (pronounced Cross, as in a crossover) series refers to crossover games (often developed by Bandai Namco Games) that features primarily Namco characters along with other gaming companies' characters (such as those from Capcom).
The Cross series begun with the development of Namco × Capcom; Monolith Soft, then a subsidiary of Namco consisting of former Square employees, was in charge of the game. Development started in 2003, and was initially proposed by Monolith Soft as an internal crossover of Namco characters for the company's 50th anniversary.[1] This led to a roster of around 100 characters, but the team wanted a larger roster.[2] To achieve this and create a "more exciting" experience, Namco reached out to Capcom to collaborate on the project. Capcom agreed, breaking the accepted reality of the time for large rival companies not to cooperate on a project.[1][2] The game was Capcom's second major collaboration with another publisher following the SNK vs. Capcom series.[3]
Community content is available under
CC-BY-SA
unless otherwise noted.