Avenger (必殺 無頼拳; Hissatsu Buraiken; also spelled Avengers) is an overhead-view vertically scrolling beat 'em up arcade game released by Capcom in 1987. The game was developed by the duo of Takashi Nishiyama and Finish Hiroshi, who later created the original Street Fighter fighting game and, after leaving Capcom and joining SNK, created a few of the latter company's early fighting games.
It was later included on Capcom Classics Collection: Remixed for the PSP and Capcom Classics Collection Vol. 2 for the PlayStation 2 and Xbox and the 2013 compilation Capcom Arcade Cabinet for the PlayStation 3 and Xbox 360.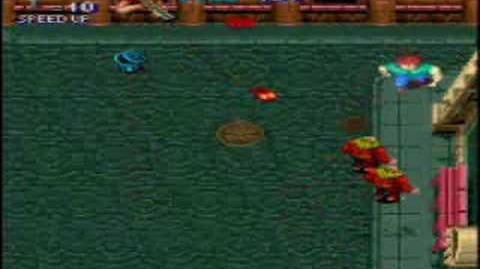 Gameplay
The game takes place in Paradise City, where the villain, "Geshita", has captured six girls from the city. The player's objective (as Ryu or Ko) is to banish "Geshita" from Paradise City once and for all. During the game, the player can pick up powerups like the "Speed Up", the Super Punch, Grenades, Shurikens, Nunchaku and extra health.
The player's character has three normal means of attack:
Punch: - Quick with short range.
Kick: - Slower with longer range.
Roundhouse: - Hits in a 360 degree motion.
Trivia
"Hissatsu Buraiken" (the game's Japanese name) was later used as the name for one of Street Fighter character Dan's Super Combos.
Credits
Direction: Piston Takashi
Game Planning: Moomin Hiroyuki
Character Design: Short Arm Seigo, Haniwa Kazunori, Puttun Midori, Takeuma Youji, Dekopachi Hiroko, Sakeguse Kohichi, Donald Chiyomi
Program: Popo Yumiko
Hard Planning: Mokkori Masa
Sound and Music: Golden Tamayo, New Half Yoshihiro
Special Thanks: Famicon Akira, Ganko Yasushi, Teinei Hisayo
Presented by: Capcom
Gallery
External link