Adventure Quiz: Capcom World (アドベンチャークイズ カプコンワールド) is a quiz arcade game released in 1989. In 1992 it was ported for PC Engine Super CD-ROM² alongside Adventure Quiz 2: Hatena? no Daibouken in a single disc.
Gameplay
[
]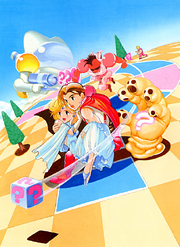 This section is currently incomplete.
You can help Capcom Database by expanding it.
Story
[
]
The princess of the Capcom Kingdom was kidnapped, and the hero must pass by six worlds to save her. In the end of each world he faces a Capcom character.
Bosses
[
]
See also
[
]